Source: Syfy
schedulebot
[
NOTE: Syfy schedule subject to change(s)
]
SAVAGE CRITTERS MOVIE MARATHON - SYFY: SCHEDULE FRIDAY, AUGUST 10, 2012
08:00 AM
Rage Of The Yeti
A quest for riches becomes a fight for survival after treasure hunters find snow monsters on a mountain in the Arctic. Directed by
Stargate Atlantis'
David Hewlett.
Cast includes David Chokachi, Matthew Kevin Anderson, Yancy Butler, Laura Haddock, Atanas Srebrev, David Hewlett, Jonas Armstrong, James Patric Moran, Rosalind Halstead, Emilia Klayn, Jesse Steele and Mike Straub.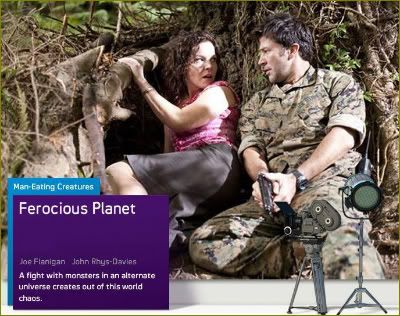 10:00 AM
Ferocious Planet
An experimental device malfunctions, transporting a group of observers to another dimension. The group must repair the machine in order to return home while fending off bloodthirsty creatures.
Cast includes
Stargate Atlantis'
Joe Flanigan, John Rhys-Davies, Catherine Walker, Dagmar Döring, Robert Soohan, Yare Michael Jegbefume, Chris Newman and Shashi Rami.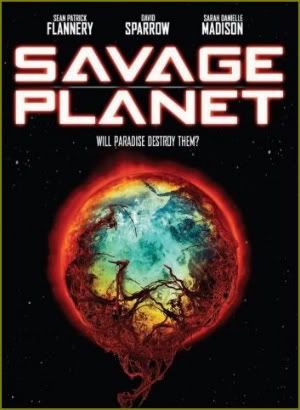 12:00 PM
Savage Planet
Sean Patrick Flanery
and
Reagan Pasternak
star in this sci-fi thriller about a scientific expedition to a world populated by a deadly species.
Cast includes Sean Patrick Flanery, Reagan Pasternak, Joel S. Keller, Roman Podhora, James McGowan, Kevin Hanchard and Sarah Danielle Madison.
02:00 PM
Arctic Predator
[also known as "
Frost Giant
"]
A dedicated explorer and his team search for a 19th century shipwreck off the coast of Antarctica. After the team digs up an alien ice creature that has been buried in the ice for over 200 hundred years, the creature kills the explorers and heads to the mainland, where it begins sucking the heat energy from Earth.
Cast includes Dean Cain, Erbi Ago, Velizar Binev, Lucy Brown, Louisa Clein and Laia Gonzàlez.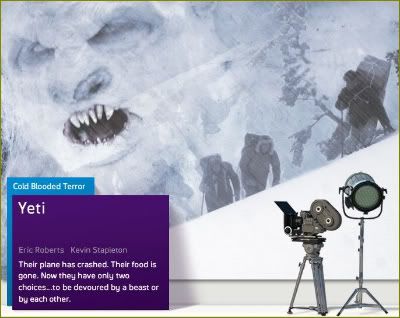 04:00 PM
Yeti
The titular snow monster stalks a college football team after their plane crashes in the Himalayas.
Cast includes Marc Menard, Carly Pope, Adam O'Byrne, Brandon Jay McLaren, Crystal Lowe, Peter DeLuise, Ed Marinaro, Ona Grauer and Aaron Pearl.
06:00 PM
Ice Spiders
A ski resort is terrorized by giant spiders that are intent on finding their next victims after government scientists lose control of an engineering experiment.
Cast includes Patrick Muldoon, Vanessa Williams, Thomas Calabro, David Millbern, Noah Bastian, Carleigh King and Stephen J. Cannell.