Source: Syfy
schedulebot
VAMPIRE MOVIE MARATHON - SYFY: SCHEDULE - MONDAY, JANUARY 30, 2012
09:30 AM
Rise: Blood Hunter
A slain reporter (
Lucy Liu
) returns from the grave to seek vengeance on the bloodthirsty gang of vampires that attacked her.
Cast includes Robert Forster, Lucy Liu, Carla Gugino, Michael Chiklis, Paul Cassell and Mako.
11:30 AM
Wrong Turn 3: Left For Dead
Three-Finger (
Borislav Illiev
) and his clan of deformed cannibals are hunting campers when a prison transport bus crashes nearby, pitting the murderous mutants against a group of hardened killers.
Guest includes Tom Frederic, Janet Montgomery, Gil Kolirin, Christian Contreras, Jake Curran, Tom McKay, Charles Venn, Tamer Hassan and Jack Gordon.
01:30 PM
Constantine
Constantine tells the story of irreverent supernatural detective John Constantine, who has literally been to hell and back.
Cast includes Keanu Reeves, Rachel Weisz, Shia LaBeouf, Djimon Hounsou, Max Baker, Pruitt Taylor Vince, Gavin Rossdale, Tilda Swinton and Peter Stormare.
04:00 PM
Jeepers Creepers 2
Writer-director
Victor Salva'
s inevitable follow-up to the surprise success
JEEPERS CREEPERS
(2001) picks up immediately after the events of the first film, in which a mysterious demon — the Creeper — emerges from its cyclical hibernation to devour unwary country folk.
Cast includes Ray Wise, Jonathan Breck, Garikayi Mutambirwa, Eric Nenninger, Nicki Aycox, Travis Schiffner, Lena Cardwell and Billy Aaron Brown.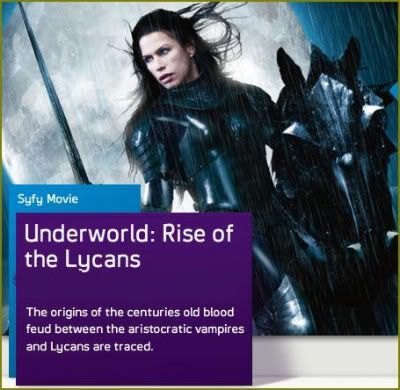 06:00 PM
Underworld: Rise Of The Lycans
A prequel to the first two Underworld films, this fantasy explains the origins of the feud between the Vampires and the Lycans. Aided by his secret love, Sonja (
Rhona Mitra
), courageous Lucian (
Michael Sheen
) leads the Lycans in battle against brutal Vampire king Viktor (
Bill Nighy
). Determined to break the king's enslavement of his people, Lucian faces off against the Death Dealer army in a bid for Lycan independence.
Cast includes Michael Sheen, Bill Nighy, Rhona Mitra, Steven Mackintosh, Kevin Grevioux, David Aston, Geraldine Brophy and Leighton Cardno.