STARGATE TV SCHEDULE WEEK JANUARY 23, 2012:
[NOTE: High Definition channels not listed on this schedule. Please confirm with your local listings for correct times.]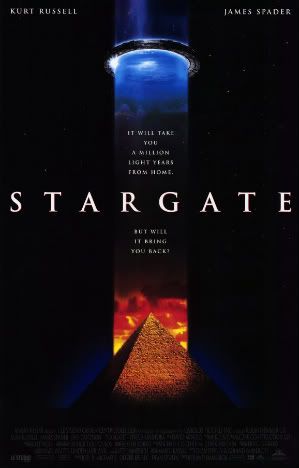 STARGATE
The Original Movie (1994)
Nerdy Egyptologist Daniel Jackson (
James Spader
) is called upon to assist in a classified Air Force project near the great pyramid of Giza. The Feds suspect that a huge circular structure discovered near the pyramid is a "Stargate"--a teleportation device that links the earth with another site far off in the universe. Jackson deciphers the hieroglyphic code on the structure and, accompanied by a military team led by Colonel Jack O'Neil (
Kurt Russell
), embarks on a perilous journey to the unknown. They emerge into a bizarre desert civilization ruled by a Machiavellian tyrant (
Jaye Davidson
) who claims to be the sun god Ra.
Cast includes Kurt Russell, James Spader, Alexis Cruz, Viveca Lindfors, Mili Avital, John Diehl, Jaye Davidson, Leon Rippy, Djimon Hounsou, Erick Avari and French Stewart.
Mon. Jan. 23 12:15 PM
AMC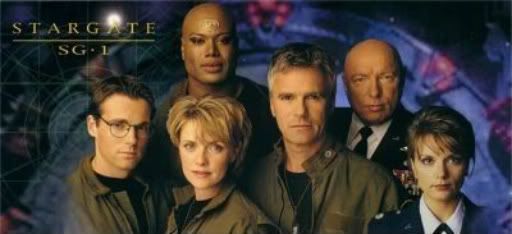 STARGATE SG-1
Cast includes Richard Dean Anderson, Amanda Tapping, Christopher Judge, Michael Shanks, Don S. Davis and Teryl Rothery
SYFY
Thur. Jan. 26 2:00 AM
Ripple Effect
When several look-alike SG-1 teams arrive at Stargate Command, the real team deduces that the others are not clones but teams displaced from alternate realities.
Guest stars include Teryl Rothery, JR Bourne, Bill Dow, Lexa Doig and Dan Shea.
Fri. Jan. 27 2:00 AM
Stronghold
Teal'c disappears after voicing concerns about the absence of democracy in the new Jaffa government, which prompts Daniel and Landry to launch an investigation.
Guest stars include Tony Amendola, Cliff Simon, Reed Diamond, Dakin Matthews, Yan Feldman, Don Thompson, Veena Sood, Eric Breker, Simone Bailly, Gardiner Millar, Ken Kirzinger and Hugo Steele.
Fri. Jan. 27 5:00 AM
Ethon
The Ori develop a new weapon blueprint, which prompts Kane, a representative from the Rand civilization, to seek the team's help to destroy any weapons that have been created from the blueprint and to convince his government to sever ties with the Ori.
Guest stars include John Aylward, Ernie Hudson, Matthew Bennett, Desiree Zurowski, Barclay Hope, Martin Christopher, Sage Brocklebank, Chelah Horsdal and
Falling Skies'
Peter Shinkoda.

STARGATE ATLANTIS
Cast includes Joe Flanigan, David Hewlett, Rainbow Sun Francks, Rachell Luttrell, Torri Higginson, Paul McGillion, Jason Momoa, David Nykl, Robert Picardo and Amanda Tapping.
UHD
Mon. Jan. 23 5:00 PM
The Shrine
Mon. Jan. 23 8:30 PM
The Shrine
Dr. Rodney McKay faces death in the form of a fatal illness, leading to the depletion of his memories, behavioral regression and a trip to a special shrine.
Guest stars include Kate Hewlett, David Nykl and Sharon Taylor.
SYFY
Sat. Jan. 28 5:00 AM
The Storm
The approach of a powerful storm prompts Weir to order the evacuation of Atlantis, which gives a new enemy the opportunity to move in and claim its abandoned resources.
Guest stars include Erin Chambers,
Sanctuary's
Ryan Robbins, Paul McGillion, Michael Puttonen,
Hell on Wheel's
Colm Meaney, David Nykl, Don Ackerman and
Glee's
Cory Monteith.
SYNDICATED
Weekend
January 28/29 in Syndication (check your local listings for channel, date and time) -
The Siege - Part 2
As Weir prepares to destroy the city to prevent a Wraith takeover, Earth reinforcements arrive to relieve the team, determined to defend Atlantis to the last man.
Guest stars include Clayton Landey, David Nykl, Chris Britton, David Orth, James Lafazanos and Chuck Campbell.
Cast includes Robert Carlyle, Louis Ferreira, Brian J. Smith, Elyse Levesque, David Blue, Alaina Huffman, Jamil Walker Smith, Peter Kelamis, Patrick Gilmore, Julia Benson, Jennifer Spence, Ming-Na and Lou Diamond Phillips.
SYNDICATED
Weekend
January 28/29 in Syndication (check your local listings for channel, date and time) -
Resurgence
The Destiny follows a remote energy signature to an area of space strewn with destroyed ships that are initially believed to be the remnants of an ancient battle. Elsewhere, Eli grapples with how he's going to tell his mother what really happened to him.
Guest stars include Mike Dopud, Lou Diamond Phillips and Jacob Blair.