STARGATE TV SCHEDULE WEEK NOVEMBER 14, 2011:
[NOTE: High Definition channels not listed on this schedule. Please confirm with your local listings for correct times.]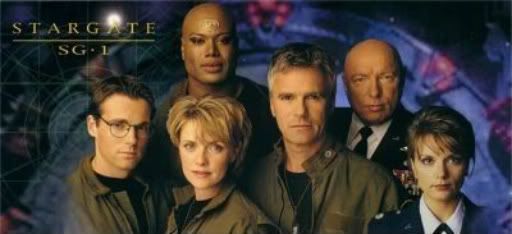 STARGATE SG-1
(please check local listings to confirm Showtime time slot)
Cast includes Richard Dean Anderson, Amanda Tapping, Christopher Judge, Michael Shanks, Don S. Davis and Teryl Rothery
SHOWTIME
(BEYOND) (Times listed are PT)
Mon. Nov. 14 8:30 PM
A Hundred Days
A freak accident leaves Jack stranded on a planet with no way to return.
Guest stars include Michele Greene, Julie Patzwald, Shane Meier and Marcel Maillard.
Mon. Nov. 14 9:15 PM
Shades of Grey
O'Neill (Richard Dean Anderson) makes a diplomatic faux pas that threatens Earth's peaceful relations with her allies.
Guest stars include Tom McBeath, Steve Makaj, Marie Stillin, Christian Bocher and Linnea Sharples.
Tue. Nov. 15 8:35 PM
New Ground
The Stargate team becomes an unwitting pawn in an ideological war between two planets.
Guest stars include Richard Ian Cox, Daryl Shuttleworth, Desiree Zurowski, Jennifer Copping and Bill Nikolai.
Tue. Nov. 15 9:20 PM
Maternal Instinct
The Stargate team tries to find the missing Harsesis child before the Apophis do.
Guest stars include Tony Amendola, Terry Chen, Battlestar Galactica's Aaron Douglas, Steve Bacic, D. Harlan Cutshall and Carla Boudreau as Oma Desala.
Wed. Nov. 16 8:30 PM
Crystal Skull
The Stargate crew seeks the aid of Jackson's grandfather when a colleague disappears.
Guest stars include Jan Rubes, Jason Schombing, Dan Shea, Russell Roberts, Jacquie Janzen, Daniel Bacon and Tracy Westerholm.
Wed. Nov. 16 9:15 PM
Nemesis
The Stargate crew battles destructive creatures no one can seem to control.
Guest stars include
Falling Skies'
Colin Cunningham.
Thur. Nov. 17 8:30 PM
Small Victories
SG-1 takes on the replicators that have invaded Earth.
Guest stars include
Falling Skies'
Colin Cunningham, Gary Jones, Teryl Rothery, Dan Shea, Kis Yurij and Dmitry Chepovetsky.
Thur. Nov. 17 9:15 PM
The Other Side
SG-1 answers a distress call from a civilization whose roots can be traced back to Earth.
Guest stars include Rene Auberjonois, Anne Marie DeLuise, Gary Jones, Dan Shea, Stephen Park, Kyle Cassie and Kris Keeler.
Fri. Nov. 18 9:00 PM
Upgrades
The team is shown a device that turns them into superhumans.
Guest stars include Vanessa Angel, Dan Shea, Kristina Copeland, Bill Nikolai and Laara Sadiq.
Fri. Nov. 18 9:45 PM
Crossroads
Teal'c reunites with a former love who claims she's discovered the secret to defeating the Goa'uld.
Guest stars include Vanessa Angel, Musetta Vander, Peter Wingfield, Ron Halder and Sean Millington.
SYFY
Thur. Nov. 17 1:00 AM
Affinity
Teal'c comes to the aid of a troubled neighbor (
Erica Durance
) after moving into his own apartment, while Carter ponders the future of her relationship with Pete (
David DeLuise
).
Guest stars include David DeLuise,
Smallville's
Erica Durance, Derek Hamilton, Lucas Wolf, Peter Bryant, Michael Rogers, Christopher Attadia and Benita Ha.
Fri. Nov. 18 1:30 AM
Covenant
When a friend (
Charles Shaughnessy
) of Carter's threatens to expose evidence of aliens she offers to give him access to Stargate Command to persuade him to reconsider. But the man's business rivals suspect it's a ploy to get government funding.
Guest stars include Charles Shaughnessy, Tom O'Brien, Kendall Cross, Chris Sheilds and Ingrid Torrance.
Sat. Nov. 19 1:00 AM
Sacrifices
On the eve of his son's wedding, Teal'c is caught in the midst of a Jaffa uprising after Ishta (
Jolene Blalock
) is taken hostage by Moloc, the Goa'uld behind the rebellion.
Guest stars include Jolene Blalock, Tony Amendola, Neil Denis, Mercedes de la Zerda, Royston Innes, Jeff Judge, Noah Danby, Steve Lawlor, Dan Payne, Simone Bailly and Dan Shea.

STARGATE ATLANTIS
Cast includes Joe Flanigan, David Hewlett, Rainbow Sun Francks, Rachell Luttrell, Torri Higginson, Paul McGillion, Jason Momoa, David Nykl, Robert Picardo and Amanda Tapping.
SYFY
Mon. Nov. 14 9:00 AM
Brain Storm
Doctors Keller and McKay go to Earth to witness a scientific demonstration conducted by McKay's rival, Malcolm Tunney (
Dave Foley
). Unfortunately, Tunney's device creates a life-threatening situation.
Guest stars include Dave Foley, Marshall Bell, Bill Nye, Neil deGrasse Tyson, Mike Coleman, Naomi Dayneswood and Shirley Ng.
Thur. Nov. 17 2:00 AM
First Contact
Dr. Daniel Jackson (
Michael Shanks
) visits Atlantis and enlists Dr. McKay's help to find a hidden lab on the station. Meanwhile, the Daedalus hosts a Wraith delegation for talks concerning Dr. Keller's research.
Guest stars include
Stargate SG-1's
Michael Shanks, Mitch Pileggi, Christopher Heyerdahl, Martin Christopher, Sharon Taylor, Chuck Campbell and Tyler McClendon.
Fri. Nov. 18 2:30 AM
The Lost Tribe
Rodney and Daniel activate an Ancient weapon before determining its threat to active stargates; Todd's group continues to hold the Daedalus crew captive.
Guest stars include Michael Shanks, Christopher Heyerdahl, Daniella Alonso, Martin Christopher, Tyler McClendon, Sharon Taylor and Linda Ko.
Sat. Nov. 19 2:00 AM
The Prodigal
An old foe usurps Atlantis by breaching the Gate Room, forcing McKay and Sheppard to make an arduous climb while a scheme involving Teyla's son unfolds.
Guest stars include
Star Trek Enterprise's
Connor Trinneer,
Riese's
Sharon Taylor, Brad Dryborough, Brandon Blue and Colin Corrigan.
UHD
Mon. Nov. 14 5:00 PM
Midway
Mon. Nov. 14 8:30 PM
Midway
Teal'c (
Christopher Judge
) goes to Atlantis to mentor Ronon ahead of an IOA review to determine his suitability for the Stargate program. Meanwhile, the Wraith kick-start a plot against the Midway station.
Guest cast includes Rob LaBelle, Bill Dow, Scott Heindl, Ben Cotton and
Stargate SG-1's
Christopher Judge.
SYNDICATED
Weekend
November 19/20 in Syndication (check your local listings for channel, date and time) -
Underground
The team establishes contact with the Genii, an agricultural collective whose eagerness to establish relations with Atlantis belies its true agenda.
Guest stars include Erin Chambers, Ari Cohen, Star Trek's Colm Meaney, Craig Veroni and Darren Hird.
Cast includes Robert Carlyle, Louis Ferreira, Brian J. Smith, Elyse Levesque, David Blue, Alaina Huffman, Jamil Walker Smith, Peter Kelamis, Patrick Gilmore, Julia Benson, Jennifer Spence, Ming-Na and Lou Diamond Phillips.
SYNDICATED
Weekend
November 19/20 in Syndication (check your local listings for channel, date and time) -
Resurgence
The Destiny follows a remote energy signature to an area of space strewn with destroyed ships that are initially believed to be the remnants of an ancient battle. Elsewhere, Eli grapples with how he's going to tell his mother what really happened to him.
Guest stars include Mike Dopud, Lou Diamond Phillips and Jacob Blair.