Source:
Syfy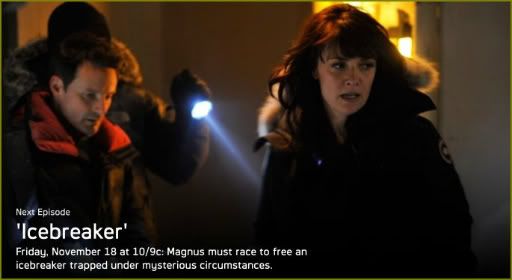 SANCTUARY - SYFY VIDEO: 'Icebreaker' Episode Trailer Airs Friday, November 18, 2011 at 10/9C
Magnus and Will struggle to save an icebreaker stranded under mysterious circumstances. Sanctuary Friday at 10/9c.
When a team from the UK Sanctuary gets in trouble on a stranded icebreaker in the Bering Sea, Magnus and Will must figure out who is behind the mysterious happenings at sea.
Henry, Declan (
Robert Lawrenson
) and a team from the UK Sanctuary go to the Bering Sea to investigate a mystery on a shipwrecked icebreaker, where the crew has killed the Abnormals on board and each other.
Henry and a team from the UK Sanctuary find themselves trapped on a disabled ship on the frozen Bering Sea, where they discover that the original crew has inexplicably killed each other; Magnus and Will attempt to rescue their stranded team member.
Guest stars include Michael Patric, Robert Lawrenson and Jodi Balfour.