Source: Syfy
schedulebot
DISASTER MOVIE MARATHON - SYFY: SCHEDULE - SATURDAY, JANUARY 28, 2012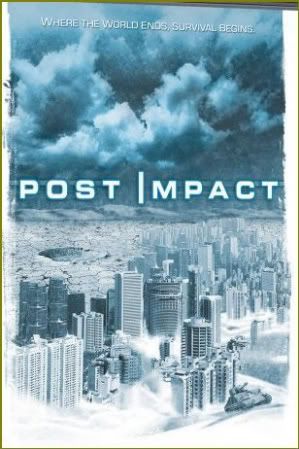 09:00 AM
Post Impact
After a meteor strike starts a new ice age on Earth, one man leads a group of survivors on a cross-country journey to find a device that could give humankind new hope for survival.
Cast includes Dean Cain, Bettina Zimmermann, Joanna Taylor, Nigel Bennett, John Keogh and Cheyenne Rushing.
11:00 AM
Meltdown: Days Of Destruction
A cop (
Casper Van Dien
) tries to protect his family as the Earth shifts dangerously close to the sun, and a resulting heatwave causes looters to take to the streets.
Cast includes Casper Van Dien, Stefanie von Pfetten, Amanda Crew, Ryan McDonell and
Stargate
alums Vincent Gale, Venus Terzo, Greg Anderson and Bill Dow.
01:00 PM
Megafault
A massive earthquake threatens to split the world in half, prompting a seismologist and a miner to intervene.
Cast includes Brittany Murphy, Eriq La Salle, Bruce Davison,
Smallville's
Justin Hartley, Paul Logan and Jack P. Downing.
03:00 PM
NYC: Tornado Terror
Tornadoes trash the Big Apple after a huge storm system stakes out the skies over New York.
Cast includes Nicole de Boer, Sebastian Spence, Jerry Wasserman, Winston Rekert, Colby Johannson, Tegan Moss, Jill Morrison, Matthew Harrison, Paulo Ribeiro, Jennifer Copping and
Sanctuary's
Agam Darshi.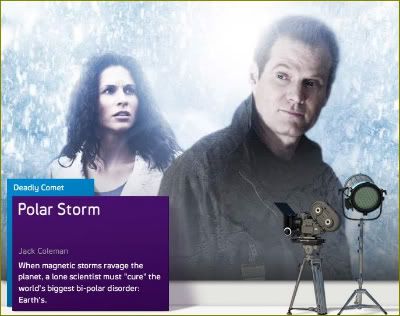 05:00 PM
Polar Storm
Magnetic storms wreak havoc after a meteor nearly hits Earth.
Cast includes Jack Coleman, Holly Elissa Lamaro, Tyler Johnston, Terry David Mulligan, Roger R. Cross and David Lewis.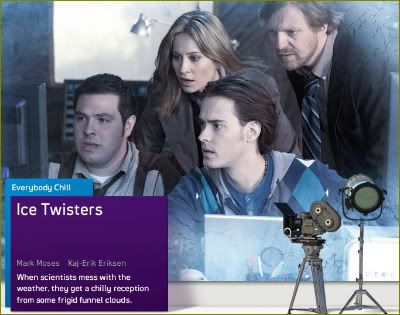 07:00 PM
Ice Twisters
Scientists seek the assistance of a science fiction novelist when a top-secret government program devoted to researching experimental weather manipulation techniques results in the creation of deadly tornadoes made of ice.
Cast includes Mark Moses, Camille Sullivan, Kaj-Erik Eriksen, Alex Zahara, Ryan Kennedy, Robert Moloney, Dion Johnstone and Ingrid Torrance.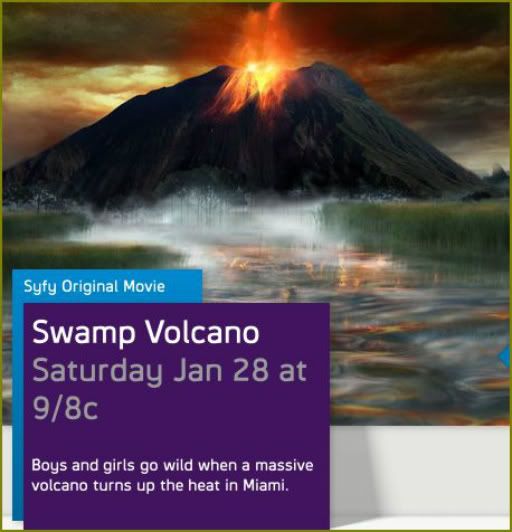 09:00 PM
Swamp Volcano - Syfy Premiere!
A vulcanologist tries to prevent a catastrophic eruption that would destroy civilization after an oil-drilling operation strikes a magma flow in the Gulf of Mexico and inadvertently creates a volcano in Miami.
Cast includes Stacey Asaro, Owen Davis, Cleavant Derricks, Joseph Diaz, Miles Doleac, Brad Dourif, J.D. Evermore, Griff Furst, Lauren Graham, Emily D. Haley and Rachel Hunter.
11:00 PM
Disaster Zone: Volcano In New York
A thriller that follows tunnel workers as they try to save New York City from an underground volcano.
Cast includes Costas Mandylor, Michael Ironside, Alexandra Paul, Eric Breker, Ron Selmour, Pascale Hutton, Zak Santiago and Robert Moloney.
01:00 AM
Swamp Volcano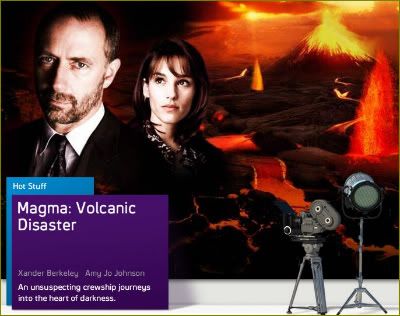 03:00 AM
Magma: Volcanic Disaster
Xander Berkeley
and
Amy Jo Johnson
star in this ecological-disaster flick that follows a team of seismologists as they investigate a series of volcanic events that could lead to the extinction of all life on Earth. Directed by Ian Gilmore.
Cast includes Xander Berkeley, Amy Jo Johnson, David O'Donnell, George R. Sheffey, Michael Durrell and Reiko Aylesworth.