Source:
After Elton
[follow link for complete interview]
TORCHWOOD: MIRACLE DAY - AFTER ELTON: On the Set with Eve Myles, Kai Owen and Bill Pullman
Posted by Alonso Duralde
on June 9, 2011
The
Torchwood
universe sees a lot of changes in its new season,
Miracle Day
, which premieres on Starz July 8. For veteran cast members, it's the first time that the series has filmed in Hollywood, half a world away from its original Cardiff setting. And with a new location comes new American cast members joining the show -- and new expectations from viewers.
During production, AfterElton had the opportunity to visit the famed Warner Bros. lot in Burbank, Calif., where returning stars
Eve Myles
(who plays the Torchwood Institute's Gwen Cooper) and
Kai Owen
(Gwen's adoring husband Rhys) talked about the delightful culture shock of coming to sunny L.A., while newbie
Bill Pullman
(cast as infamous murderer and child-molester Oswald Danes) discussed becoming a part of this worldwide hit...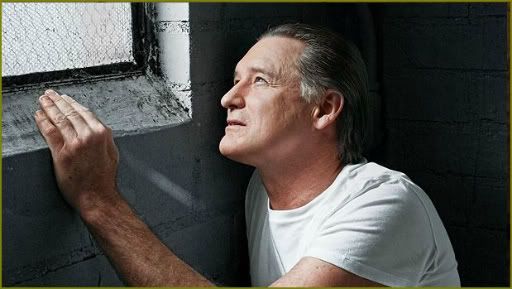 Bill Pullman as Oswald Danes
Bill Pullman
...
AE: You have kind of a genre background, with Independence Day, Serpent and the Rainbow, and even Spaceballs – what has been your experience with the fan community, and do you sense more of that coming now that you're involved with this show?
BP
:
I think it's quite an interesting fanbase for Torchwood – this week, I did a project with astronauts, and a lot of people at NASA really like Torchwood. Marsha Ivins, who's a retired astronaut, has always been a huge fan, and she's bringing with her imaging from the photo department at NASA because they're such big Torchwood fans and they wanted to get some images of Cardiff for Russell and Julie [Gardner of the BBC]. Very bright people get a little crazy about the whole thing...
Eve Myles as Gwen Cooper
Eve Myles
...
AE: The history of the show has been, in a lot of ways, the history of you and Gwen. The show began through your character's eyes, and as the show itself has become a global phenomenon, so have you. What's the ride been like?
EM
:
Well, first of all, thank you very much – I think that's very generous of you. But god, it's been incredible, and it still is. I've had my family over here to do the show this year, and I have a 17-month-old child, and my dog, and my partner [Bradley Freegard], and we've all had to come over together, and it's strange, because I feel like it's just about to begin. It's been a huge journey in the UK, you know, we've worked really hard to get the show to Hollywood, we've worked our asses off. We've had the gift and the payoff to take it to the hub of the industry that we're in, and we're making it the best that Torchwood could possibly be. We're on a very exciting journey...
Kai Owen as Rhys Williams
Kai Owen
...
AE: Torchwood is coming out of a really dark story line. What kind of place is Rhys in as this one begins?
KO
:
Coming off a tremendous story like Children of Earth so dark, it finds Rhys in the most perfect place on earth, really – in a lovely cottage in South Wales, overlooking the sea, with a beautiful wife, a beautiful daughter. He kind of wishes that he wasn't in witness protection, in hiding, because they have to keep a low profile. They can't go back to the city, so he probably doesn't see his mates as much.

But when they do get the call to go back, he thinks he's OK, but when he sees the story unraveling, it's like wow, it's happening all over again, and he doesn't like that at all. And it just goes darker and darker and bigger and bigger. He starts out happy to be out of it, but then before you know it, slap-bang in the middle of it once more...
Torchwood airs in the U.S. July 8th on Starz