Source:
You Tube
and
Chiller TV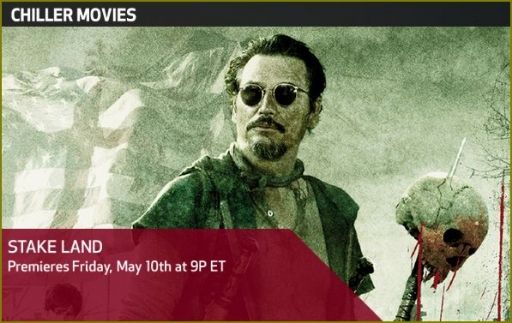 STAKE LAND - VIDEO: MOVIE TRAILER - AIRS FRIDAY, MAY 20, 2013 AT 9/8C ON CHILLER TV
After vampires overtake America, orphaned teen Martin (
Connor Paolo
) and survivalist Mister (
Nick Damici
) find themselves locked in a battle against a dangerous religious cult lead by the diabolical Jebedia Loven (
Michael Cerveris
). Later, Martin and Mister are joined by a group of weary travelers trying to find a sanctuary known as New Eden.
Cast includes Nick Damici, Connor Paolo, Sean Nelson,
Fringe's
Michael Cerveris, Bonnie Dennison, Chance Kelly, Tim House, Larry Fessenden and Kelly McGillis.