Source: Syfy
schedulebot
[
NOTE: Syfy schedule subject to change(s)
]

SCIFI MOVIE MARATHON - SYFY: SCHEDULE SUNDAY, MAY 5, 2013
10:00 AM
Catwoman
Campy comic-book action with
Halle Berry
as a cosmetics-company employee who is killed when she learns a dark corporate secret and is revived as a sexy feline superhero.
Cast includes Halle Berry, Benjamin Bratt, Sharon Stone, Lambert Wilson, Frances Conroy, Alex Borstein, Michael Massee, Byron Mann, Kim Smith,
Sanctuary's
Christopher Heyerdahl, Peter Wingfield, and Ryan Robbins;
Stargate SG1/Atlantis
alums Ona Grauer, Aaron Douglas, Peter Williams, Michasha Armstrong and Herbert Duncanson.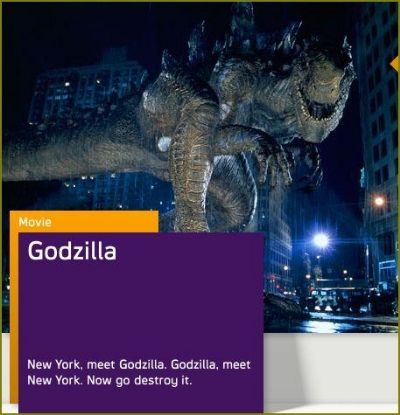 12:00 PM
Godzilla
Special-effects vehicle in which a scientist (
Matthew Broderick
) teams with a mysterious agent (
Jean Reno
) to try to stop the massive, radioactive lizard from smashing Manhattan.
Cast includes Matthew Broderick, Jean Reno, Maria Pitillo, Hank Azaria, Kevin Dunn, Michael Lerner, Harry Shearer, Arabella Field, Vicki Lewis, Doug Savant, Nancy Cartwright, Richard Gant, Clyde Kusatsu and Glenn Morshower.
03:00 PM
Contact
An admirable attempt to examine the moral, political, social and religious implications of mankind's first contact with extraterrestrial intelligence, via the unyielding character of fiercely dedicated scientist Ellie Arraway (
Jodie Foster
), for whom the pursuit of knowledge is a holy quest.
Cast includes Jodie Foster, Jena Malone, David Morse, Matthew McConaughey, Geoffrey Blake, William Fichtner, Sami Chester, Timothy McNeil, Tom Skerritt, Max Martini, Larry King, James Woods, Angela Bassett, Donna Kelley, Leon Harris, Claire Shipman, Tabitha Soren, Geraldo Rivera, Jay Leno, Natalie Allen, Robert D. Novak, Geraldine A. Ferraro, Ann Druyan, Rob Lowe, Jake Busey, Kathleen Kennedy, John Hurt, Jill Dougherty, John Holliman, Bobbie Battista, Dee Dee Myers, Bryant Gumbel, Linden Soles, Steven Ford and Tucker Smallwood.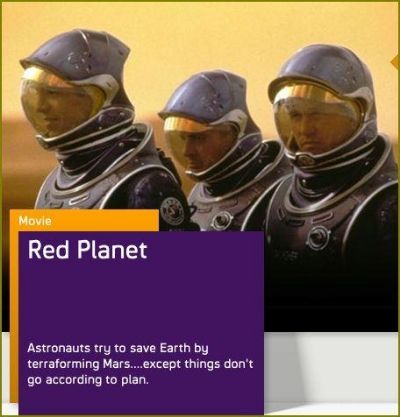 06:30 PM
Red Planet
When life on Earth is threatened by pollution in the mid-21st century, an expedition travels to Mars to test its ability to sustain life.
Cast includes Val Kilmer, Carrie-Anne Moss, Tom Sizemore, Benjamin Bratt,
The Mentalist's
Simon Baker and Terence Stamp.
09:00 PM
Terminator 3: Rise Of The Machines
Arnold Schwarzenegger's
smashing third go-round as the futuristic robot, or "cybernetic organism," battles a female terminator (
Kristanna Loken
), who is sent to assassinate John Connor (
Nick Stahl
), who's destined to become the leader of a worldwide resistance movement. The film picks up 10 years after the last installment of the sci-fi series.
Cast includes Arnold Schwarzenegger, Nick Stahl, Claire Danes, Kristanna Loken, David Andrews, Mark Famiglietti, Earl Boen, Moira Harris, Christopher Lawford, Jay Acovone and M.C. Gainey.
11:30 PM
Sin City
Robert Rodriguez
and
Frank Miller
directed this stunning, faithful and gory adaptation of a trio of
Miller's
graphic novels set in the underbelly of a noirish metropolis. A film that explores the dark and miserable town, Basin City, and tells the story of three different people, all caught up in violent corruption.
Cast includes Jessica Alba, Devon Aoki, Powers Boothe, Jude Ciccolella, Rosario Dawson, Jesse De Luna, Benicio Del Toro, Michael Clarke Duncan, Rick Gomez, Carla Gugino, Josh Hartnett, Rutger Hauer, Nicky Katt, Jaime King, Michael Madsen, Brittany Murphy, Nick Offerman, Clive Owen, Mickey Rourke, Nick Stahl, Bruce Willis and Elijah Wood.
02:00 AM
Catwoman