Source: Syfy
schedulebot
[
NOTE: Syfy schedule subject to change(s)
]

LOST GIRL - SYFY: SEASON ONE ENCORE SCHEDULE MAY 2013
Lost Girl Season 4 is coming to Syfy in 2014.
Lost Girl season one cast includes Anna Silk, Kris Holden-Ried, Ksenia Solo, Zoie Palmer, Rick Howland and K.C. Collins.
May 11 03:00 AM
Oh Kappa, My Kappa
Bo (
Anna Silk
) and Kenzi (
Ksenia Solo
) open a private investigation office. Their first job is to find a missing student at a local college. Kenzi goes undercover in the college, Bo joins campus security to uncover what happened. Bo and Dyson's (
Kris Holden-Ried
) relationship goes on the rocks and another species of Fae is revealed.
Guest stars include John Kapelos, Shauna MacDonald, Krysta Carter, Jenny Raven, Nikki Grant, Kim Roberts and Lizz Alexander.
May 11 04:00 AM
Faetal Attraction
When a Fury with an unfaithful spouse tries to hire Bo (
Anna Silk
) to kill her husband's mistress, Bo instead takes the side of the unsuspecting human woman and puts her under protection. Things quickly spin out of control, however, after the husband ends up brutally murdered, leaving Bo scrambling to contain a mess of jealousy and violence and unravel the mystery of the real killer – as Kenzi (
Ksenia Solo
) nearly becomes the next victim.
Guest stars include Clé Bennett, Jean Yoon, Krystin Pellerin, Amber Goldfarb, Rosemary Dunsmore, Stefano DiMatteo, Jennifer Gibson and Susanne Sutchy.
May 18 03:00 AM
Dead Lucky
Bo (
Anna Silk
) is coerced into solving how a human scammed Mayer (
Aron Tager
), a Dark Fae bookie. Things get creepy when she discovers the con artist behind it all is a Hsien, a Fae that can inhabit dead human corpses.
Guest stars include Aron Tager, David Keeley, Dylan Roberts, Dax Ravina, Vanessa Matsui, Paul James Saunders, Wendy Anderson and Richard Harte.
May 18 04:00 AM
Food For Thought
While tagging after Lauren (
Zoie Palmer
) and Bo (
Anna Silk
) in the Fae world, Kenzi (
Ksenia Solo
) becomes deathly ill (and incredibly grossed-out) when she inadvertently eats some toxic human soup at the home of an Aswang - sending Bo and Lauren on a daring undercover mission in search of a cure, at a powerful pharmaceutical company.
Guest stars include Lynne Griffin, Karen Glave, Hrant Alianak, Laura DeCarteret and Julian Richings.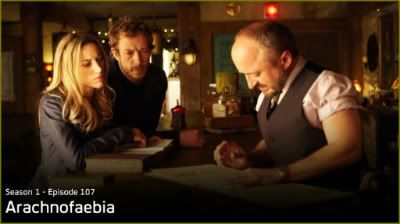 May 25 03:00 AM
Arachnofaebia
Kenzi (
Ksenia Solo
) inadvertently brings home a vicious Fae spider that can make people psychotic after she performs a spiritual cleansing of a house.
Guest stars include Lisa Berry, Chapelle Jaffe, Meg Hogarth, Kristi Angus, Tre Smith, Mark Hobson, Peter Cockett and Jeff Kassel.
May 25 04:00 AM
Vexed
Bo (
Anna Silk
) comes to believe a prisoner sentenced to death is innocent, and tries to get her out of jail before embarking on a mission of vengeance.
Guest stars include Clé Bennett, Ward Marie, Aron Tager, Paul Amos, Jeffrey R. Smith and Cheryl Quiacos.