Source: Syfy
schedulebot
[
NOTE: Syfy schedule subject to change(s)
]

SCIFI MOVIE MARATHON - SYFY: SCHEDULE FRIDAY, MAY 31, 2013
08:00 AM
Fireball
A fire inspector teams with a
Fed
to track down a psychopath who has the ability to start fires at will.
Cast includes
The Vampire Diarie's
Ian Somerhalder,
Continuum's
Lexa Doig, Aleks Paunovic, Aaron Pearl,
Falling Skies'
Colin Cunningham, Julia Arkos, Stephen E. Miller, Julian Christopher and Linda Darlow.
10:00 AM
Phantom Racer
A possessed race car menaces a driver-turned-trucker (
Greg Evigan
) who feels responsible for the death of the car's driver.
Cast includes Nicole Eggert, Greg Evigan, Brenna O'Brien, Winston Rekert, Chad Willett and Luciana Carro.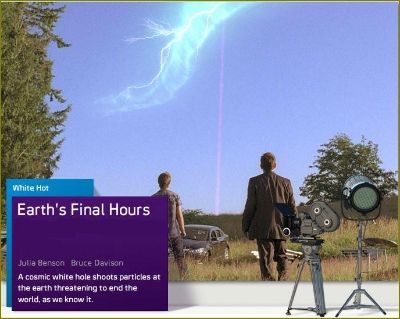 12:00 PM
Earth's Final Hours
A doomsday scenario unfolds after a super-dense fragment of interstellar mass pierces the Earth's core and slows down the planet's rotation.
Cast includes
Stargate Universe's
Julia Benson, Hamza Adam, Cameron Bright, Roark Critchlow, Bruce Davison, Hiro Kanagawa, Robert Knepper, Michael Kopsa, Julia Maxwell, Gardiner Millar, David Richmond-Peck and Alex Zahara.
02:00 PM
Beyond Loch Ness
A cryptozoologist on the hunt for the infamous, man-eating Loch Ness monster! No man on land or water has a chance against this forty-foot bloodthirsty reptile and her spawn? No man except the only one who has ever survived Nessie's wrath. Driven by a deep-seeded vengeance.
Cast includes Brian Krause,
Primeval: New World's
Niall Matter,
Stargate SG-1's
Don S. Davis,
Battlestar Galactica's
Donnelly Rhodes, Carrie Genzel, Amber Borycki, Neil Denis,
Stargate Atlantis'
Paul McGillion and Serinda Swan.
04:00 PM
Iron Invader
A meteorite's alien bacteria animates an iron statue, which then goes on a killing spree in a small town.
Cast includes Nicole de Boer, Chelah Horsdal, Jesse Moss, Merritt Patterson, Colby Johannson,
Eureka's
Chris Gauthier,
Battlestar Galactica's
Donnelly Rhodes and
Stargate Atlantis'
Paul McGillion and Kavan Smith.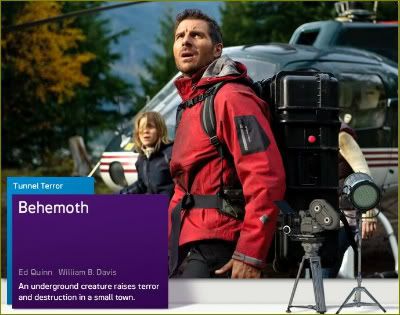 06:00 PM
Behemoth
An underground creature raises terror and destruction in a small town.
Cast includes Cindy Busby, Jessica Parker Kennedy, James Kirk, Ty Olsson, Gary Chalk,
Artcic Air's
Pascale Hutton, William B. Davis, Michael Adamthwaite and
Eureka's
Ed Quinn.