Source: Turner Classic Movies
schedulebot
CREATURE FEATURE - TURNER CLASSIC MOVIES: MARATHON SCHEDULE THURSDAY, JUNE 6, 2013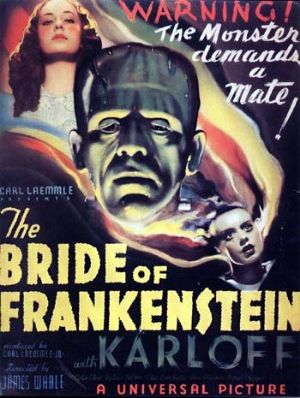 08:00 PM
Bride of Frankenstein
(1935)
To save his wife, Baron Frankenstein (
Colin Clive
) must build a mate for his monster. Eye-filling sequel to
FRANKENSTEIN
is even better, with rich vein of dry wit running through the chills. Inimitable
Ernest Thesiger
plays weird doctor [Doctor Pretorius} who compels Frankenstein into helping him make a mate for the Monster;
Elsa Lanchester
plays both the "
bride
" and, in amusing prologue,
Mary Shelley
. Pastoral interlude with blind hermit and final, riotous creation scene are highlights of this truly classic movie. Scripted by
John L. Balderston
and
William Hurlbut
. Marvelous
Franz Waxman
score, reused for many subsequent films.
Cast includes Boris Karloff, Colin Clive, Valerie Hobson, Ernest Thesiger, Elsa Lanchester, Gavin Gordon, Douglas Walton, Una O'Connor, E.E. Clive, Lucien Prival, O.P. Heggie, Dwight Frye, Reginald Barlow, Mary Gordon, Anne Darling and Ted Billings.
09:30 PM
Godzilla, King of the Monsters!
(1956)
Nuclear tests awaken a prehistoric monster. A fire-breathing lizard threatens civilization: the special effects are the star in this, the original
GODZILLA
movie.
Cast includes Raymond Burr, Takashi Shimura, Momoko Kôchi, Akira Takarada, Akihiko Hirata, Sachio Sakai, Fuyuki Murakami, Ren Yamamoto, Toyoaki Suzuki, Tadashi Okabe and Toranosuke Ogawa.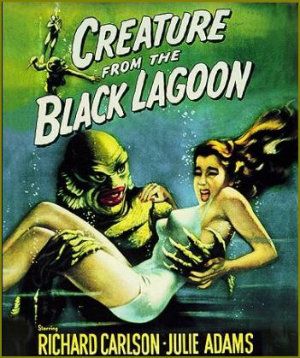 11:00 PM
Creature from the Black Lagoon
(1954)
Scientists track a prehistoric monster in the South American jungle while it tracks them. Archetypal '50s monster movie has been copied so often that some of the edge is gone, but story of Amazon expedition encountering deadly Gill Man is still entertaining, with juicy atmosphere, luminous underwater photography sequences directed by
James C. Havens
and
Scotty Welbourne
.
Cast includes Richard Carlson, Julie Adams, Richard Denning, Antonio Moreno, Nestor Paiva, Whit Bissell, Bernie Gozier and Henry A. Escalante.
12:30 AM
It Came From Beneath the Sea
(1955)
Breathtaking special effects highlight this sci-fi thriller. Huge octopus emerges from Pacific Ocean and wreaks havoc on San Francisco. First film made by the team of
Ray Harryhausen
and producer
Charles H. Schneer
.
Cast includes Kenneth Tobey, Faith Domergue, Donald Curtis, Ian Keith, Dean Maddox Jr., Chuck Griffiths, Harry Lauter and Richard W. Peterson.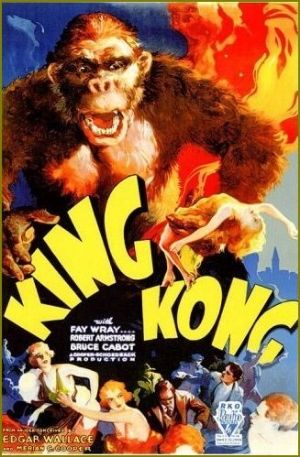 02:00 AM
King Kong
(1933)
A film crew discovers the "
eighth wonder of the world
," a giant prehistoric ape, and brings him back to New York, where he wreaks havoc. Classic version of beauty-and-beast theme is a moviegoing must, with
Willis O'Brien's
special effects and animation of monster ape Kong still unsurpassed. Final sequence atop Empire State Building is now cinema folklore;
Max Steiner
music score also memorable.
Cast includes Fay Wray, Robert Armstrong, Bruce Cabot, Frank Reicher, Sam Hardy, Noble Johnson, Steve Clemente and James Flavin.
04:00 AM
Cyclops
(1957)
A scientific expedition discovers a 25-foot tall mutant. Expedition scours Mexico in search of
Gloria Talbott's
lost fiance, discovers that radiation has transformed him into an enormous monster.
Cast includes James Craig, Gloria Talbott, Lon Chaney Jr., Tom Drake, Duncan 'Dean' Parkin, Vicente Padula, Marlene Kloss and Manuel López.