Source:
Syfy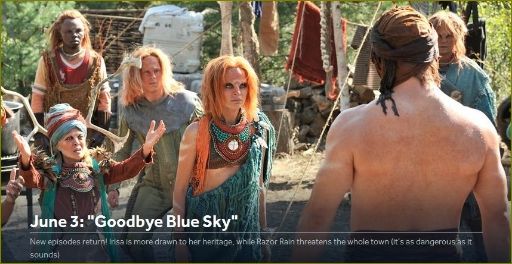 DEFIANCE - SYFY VIDEO: 'GOODBYE BLUE SKY' SNEAK PEEK - AIRS MONDAY, JUNE 3, 2013 AT 9/8C
Watch a sneak peek of the next all-new episode of Defiance. Defiance is hit by Razor Rain, forcing its residents to stay indoors where interesting relationships develop. Defiance Monday June 3 at 9/8c.
Interesting relationships develop when the residents of
Defiance
are forced to stay indoors as a threatening Razor Rain storm approaches. Meanwhile, visions lead Irisa (
Stephanie Leonidas
) to the Spirit Riders and Sukar (
Noah Danby
), who has fallen under the influence of a strange and mysterious force.
Defiance cast includes Tony Curran, Jaime Murray, Julie Benz, Mia Kirshner, Grant Bowler, Stephanie Leonidas, Graham Greene, Dewshane Williams, Jesse Rath, Justin Rain and Nicole Muñoz.
Guest stars include Marie V. Cruz, Dion Johnstone, Noah Danby, Trenna Keating, Ishan Morris and Jessica Nichols.
[
NOTE: No NEW Defiance episode on May 27, 2013 due to the Memorial Day holiday programming.
]