Source:
HBO
You Tube channel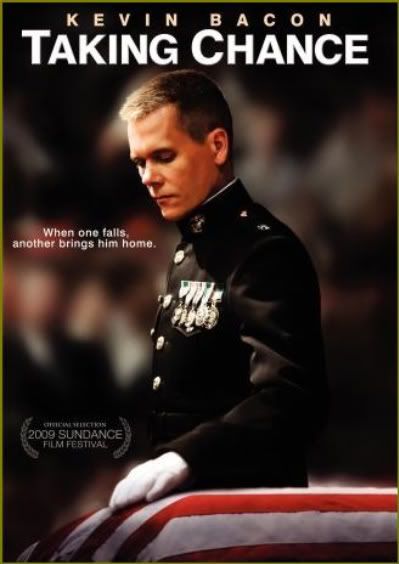 TAKING CHANCE - HBO VIDEO: ENCORE PRESENTATION Friday, MAY 24, 2013 AT 11/10AM
Don't miss the encore presentation of "Taking Chance" on Friday, May 24th.
Cast includes Kevin Bacon, Gordon Clapp, Enver Gjokaj, Tom Wopat, Blanche Baker,Paige Turco, Julie White, Tom Aldredge and Guy Boyd.
HBO's
extraordinary 2009 made-for-TV movie, "
Taking Chance
," is being repeated over the Memorial Day Holiday.
Based on the true experiences of
Lt. Colonel Michael Strobl
, who wrote eloquently of them in a widely circulated 2004 article,
Taking Chance
is a profoundly emotional look at the military rituals taken to honor its war dead, as represented by a fallen Marine killed in Iraq,
Lance Corporal Chance Phelps
. Working as a strategic analyst at Marine Corps Base Quantico in VA, Lt. Col. Strobl (
Kevin Bacon
) learns that
Phelps
had once lived in his hometown, and volunteers to escort the body to its final resting place in Wyoming.
As
Strobl
journeys across America, he discovers the great diligence and dignity in how the military, and all those involved with preparing and transporting the body, handle their duties. Equally important, he encounters hundreds of people affected by Chance's death, a vast majority of whom never knew him. This collective grieving eventually causes
Lt. Col. Strobl
, a veteran of Desert Storm now assigned to office duty, to probe his own guilt about not re-deploying to Iraq for the current conflict. Arriving in Wyoming,
Lt. Col. Strobl
completes his catharsis when he encounters
Chance's
gracious family and friends, and discovers an extraordinary outpouring of community support. (courtesy of
HBO
).
Additional air dates include:
Sat. May 25 02:00 AM HBOLAT
Sat. May 25 02:00 AM HBO
Sun. May 26 05:10 AM HBOLAT
Sun. May 26 05:10 AM HBO
Sun. May 26 06:30 PM HBO2
Sun. May 26 09:30 PM HB2
Mon. May 27 12:30 PM HBOLAT
Mon. May 27 12:30 PM HBO
The Chicago Tribune has
Lt. Col. Mike Strobl's
journal of
Taking Chance
.
Video Interview with Kevin Bacon and Lt. Col. Mike Strobl
Chance Phelps Foundation