Source: Syfy
schedulebot
[
NOTE: Syfy schedule subject to change(s)
]

LOST GIRL - SYFY: SEASON ONE AND TWO ENCORE JUNE 2013 SCHEDULE
[
NOTE: Updated June 7, 2013.
]
Lost Girl Season 4 is coming to Syfy in 2014.
Lost Girl season one cast includes Anna Silk, Kris Holden-Ried, Ksenia Solo, Zoie Palmer, Rick Howland and K.C. Collins.
Lost Girl Season One
Jun 01 03:00 AM
Fae Day
A fun-filled Fae "
high holiday
" turns potentially deadly when a Banshee wail predicts the death of someone in Trick's (
Richard Howland
) bar to occur within the next 12 hours. After a scramble that puts Bo (
Anna Silk
) and Dyson (
Kris Holden-Ried
) on the Banshee's trail, the two learn the name of the Light Fae [Sean] (
Randal Edwards
) who's marked for death – and his last wish is for them to help him reconcile with his Dark Fae brother. Bo has to heal the rift between the two brothers at great risk to herself, while trying to unravel and prevent the mysterious death omen hanging over Sean.
Guest stars include Randal Edwards, Ben Lewis, Sarah Power, Jonathan Whittaker, Naomi Snieckus, Jack Jessop, Bjanka Murgel and Patrick Rodney Barnes.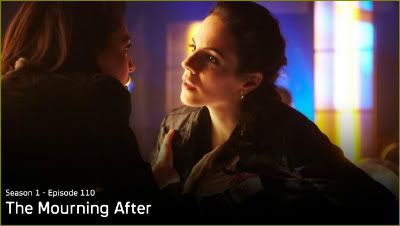 Jun 01 04:00 AM
The Mourning After
While investigating a baffling sex-related murder case, Bo (
Anna Silk
) comes into contact with Saskia (
Inga Cadranel
), a strong, sensuous Succubus who has much to teach her. The two become fast friends, but as they work together to solve the case Saskia reveals her true dark Fae colours, which tests the limits of this new found friendship... and Bo's own inner bad girl.
Guest stars include Inga Cadranel, Arnold Pinnock, Jordan Prentice, Natalie Lisinska, Abena Malika, Lee Rumohr, Sabrina Campbell and Robin Cunningham.
Jun 08 03:00 AM Faetal Justice
- CANCELLED
Jun 08 04:00 AM (dis)members Only
- CANCELLED
Jun 22 03:00 AM
Blood Lines
Bo (
Anna Silk
) has finally learned the truth about her mother – and that those closest to her have been keeping secrets about her past. Reeling, no longer sure who to trust, Bo decides to track down "
Mommy Dearest
" alone, in order to extract the truth about her own origins once and for all. While everyone frantically searches for Bo, Dyson (
Kris Holden-Ried
) visits an ancient Norn (
Kate Trotter
), a wish-granting, tree-dwelling crone, where – in order to protect the woman he loves - he makes a sacrifice that may irrevocably change his relationship with Bo forever. All these paths converge in a final face-off between mother and daughter that forces Bo to choose who will be saved…and who will not.
Guest star include Clé Bennett, Inga Cadranel, Kate Trotter, Michael Rhoades, Shakura S'Aida, Jason McPherson, Adam Chuckryk, Gregory Finney and Alli Chung.
Lost Girl Season Two
Jun 22 04:00 AM
Something Wicked This Fae Comes
In the season opener, a nomadic Fae sideshow comes to town looking to take advantage of the chaos that the bombing of the Light Fae headquarters has wrought. Unbeknownst to the general Light Fae populace, The Ash (
Clé Bennett
)is in a coma, and his bond with the land is weakening – which makes this the perfect time for the travelling circus freaks to steal the most precious thing the Light Fae possess.
Guest stars include Paulino Nunes, Dennis O'Connor, Bruce Beaton, Ho Chow, Daveed Louza, Hayley Nault and Sarah Jurgens.
Jun 29 03:00 AM
I Fought The Fae (and The Fae Won)
The hunt for The new Ash is on. Literally. A traditional Stag Hunt is held, whereby the candidate who successfully tracks and kills The Stag becomes The next Ash. Bo (
Anna Silk
) barely takes a passing interest in this ceremony until a surprise visitor with a vested interest in the hunt appears in her front room.
Guest stars include Natalie Brown, Vincent Walsh, Conrad Coates, Chris Hoffman and Jamillah Ross.
Jun 29 04:00 AM
Scream A Little Dream
As Bo (
Anna Silk
) struggles to accept the new terms of her and Dyson's (
Kris Holden-Ried
) relationship, she investigates an apartment building full of residents who appear to have lost their minds. Kenzi's (
Ksenia Solo
) choice to employ a Brownie to help around the house threatens to backfire on her.
Guest stars include Vincent Walsh, Kate Trotter, Jason Blicker, Kristina Pesic, Cliff Saunders, Conrad Bergschneider and Jill Frappier.