Source:
Lifetime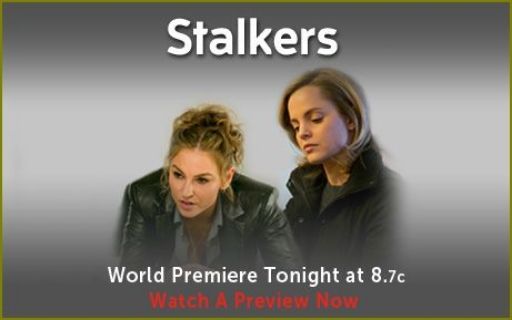 STALKERS - LIFETIME VIDEO: MOVIE TRAILER - PREMIERES SATURDAY, APRIL 13, 2013 AT 8/7C
Telling the chilling story of a tough, hot-headed cop with a troubled past who teams up with a polished, politically savvy Assistant District Attorney to take down a dangerous stalker, the thriller is inspired by a true story from the book "
Whisper of Fear: The True Story of the Prosecutor Who Stalks the Stalkers
", by
Rhonda Saunders
, a criminal prosecutor who wrote the law on stalking in California.
(
Click here for a Q & A with Rhonda Saunders.
]
Frustrated with the judicial system's indifference towards stalking cases, ambitious A.D.A "Julia Winston" (
Jodi O'Keefe
) is determined to establish a task force charged with tracking and prosecuting predators before they harm or kill their victims. However, Julia's "boys club" of bosses dismisses her concerns as trivial and repeatedly rebuffs her efforts.
Meanwhile, recently hired detective "Diane Harkin" (
Drea de Matteo
) faces similar resistance from fellow officers in her new precinct when she discovers numerous unsolved stalking cases. But for Diane, the fight to change the system is personal. She herself is on the run, having fled a violent ex-husband who won't rest until he catches up with her and their young son.
Crossing paths on an especially harrowing case of a woman terrorized by an obsessive former lover (
Mena Suvari
), Diane and Julia find common ground and form an unlikely partnership to tackle the case. But the two soon realize that to beat stalkers at their own game, they can't play strictly by the rules, and that bringing these criminals to justice means both Diane and Julia must put their careers -- and lives -- on the line.
Henry Simmons
("
NYPD Blue
", "
Shark
") also stars as Harkin's partner "Cliff."
Cast includes Jodi Lyn O'Keefe, Mena Suvari, Drea de Matteo, Brendan Fletcher, Jesse Moss, Mike Dopud, April Telek, Zak Santiago, Darcy Laurie, Duncan Fraser, Doug Abrahams and Tahmoh Penikett.