Source:
The Globe and Mail
[follow link for complete article]

LOST GIRL - GLOVE AND MAIL: How Canada is becoming the sci-fi nation
by
Marsha Lederman
Apr. 13 2013
Call it wall-cracking chemistry: At his audition for the part of Dyson on
Lost Girl
,
Kris Holden-Ried
read with
Anna Silk
, who had been cast as Bo, a supernatural sexual omnivore with a tendency to literally suck the life out of her partners, but who can also be healed by sex. The scene called for a big kiss.
Holden-Ried
had
Silk
up against the wall. When they were done, executive producer
Jay Firestone
pointed behind them: They had cracked the plaster.
"
They were so involved in the scene, they didn't realize they did it
," recalls
Firestone
.
Holden-Ried
got the part.
Three seasons later, the chemistry continues to steam up the Faedom on
Lost Girl
, one of a current crop of shows that is taking sci-fi out of your parents' basement and into the genre-defying almost-mainstream. No
Dungeons & Dragons
T-shirt required; this is not your geeked-out old-school science fiction. You could call these shows sci-fi mash-ups: complex in terms of categorization, they're also compelling, cosmopolitan – and Canadian. Not just made in Canada.
There's a distinction, of course.
Canada has a rich history of American shows coming up north to shoot. That's particularly so in Vancouver, where
The X-Files
was a game-changer way back, and continues today with series like
Supernatural
. Along the way, Canadians went from staffing the American productions to creating their own. Now, shows such as
Continuum
,
Lost Girl
and
Orphan Black
are generating some out-of-this-world (or at least out-of-this-country) buzz and deals; even the cancelled Canadian series
Sanctuary
has recently struck a
syndication deal
. Fuelled by all that experience, by the rise of the specialty channel, and by Canadian-content requirements, Canadian science fiction is undeniably having a moment.
"
There's been great science fiction that's come out of Canada
," says
Thomas Vitale
, executive vice-president of programming and original movies for Syfy, whose schedule includes both Canadian productions and such shot-in-Canada U.S. series as the big-budget
Defiance
, which was shot in Toronto last year and premieres on Monday (in Canada, on Showcase)...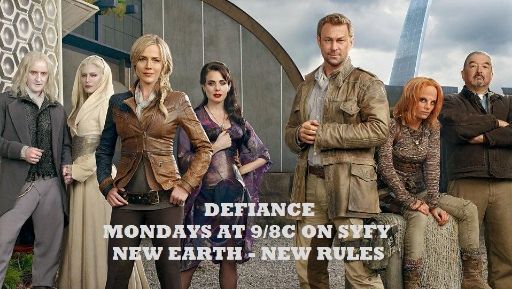 Defiance
premieres Monday, April 15, at 9/8C on Syfy.
CLICK HERE TO VIEW THE FIRST 14 MINUTES OF THE TWO-HOUR PILOT EPISODE.
The
Lost Girl
season three finale airs Monday, April 22, 2013 at 10/9C on Syfy (US).
CLICK HERE TO VIEW THE EPISODE TRAILER.