Source:
Syfy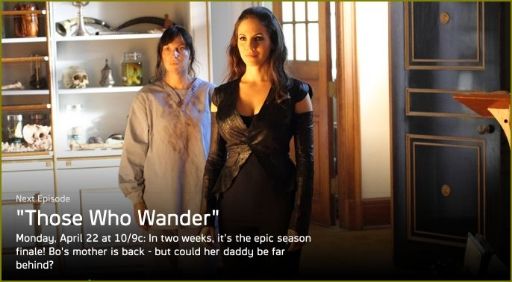 LOST GIRL - SYFY VIDEO: 'THOSE WHO WANDER' EPISODE TRAILER - THIRD SEASON FINALE! - AIRS FRIDAY, APRIL 22, 2013 AT 10/9C
Bo attempts an unlikely rescue against an army to save two people who are dear to her. Lost Girl Season Finale Monday April 22 at 10/9c.
In the third-season finale, Bo (
Anna Silk
) takes on an army to rescue two people who are dear to her. But while she's off playing hero, those she left behind suddenly find themselves in danger. Meanwhile, Kenzi (
Ksenia Solo
) has an epiphany about Hale
K.C. Collins
); and a clue to Bo's past is revealed to Dyson (
Kris Holden-Ried
).
Guest stars include Rob Archer, Deborah Odell, Inga Cadranel, Shawn Doyle and Emmanuelle Vaugier.