Source:
Yahoo! TV
[follow link for complete column]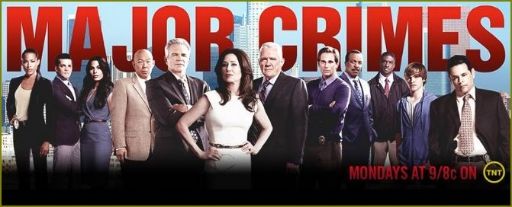 Yahoo! TV: Monday's Picks: What to Watch Monday, July 29, 2013
A list of can't-miss hot shows, undiscovered gems and fan favorites
...
Major Crimes
MONDAY 9 PM on TNT
Nice hat, Provenza. He might be trying to shield himself from the rampant racial tension in tonight's episode, when the body of a Latino man is discovered in the home of a white swim coach. Plus, "
Full House's
"
Lori Loughlin
guest stars as Kris's mom, who shares her concerns with Raydor about the Rusty/Kris relationship.
(
Kearran Giovanni, G.W. Bailey, Nadine Velazquez
and
Michael Paul Chan
from
Major Crimes
)
CLICK HERE TO VIEW THE EPISODE TRAILER FOR MAJOR CRIMES' 'THE DEEP END'