Source:
The Los Angeles Time Hero Complex
[follow link for complete interview]
HERO COMPLEX: 'Merlin': Angel Coulby talks Gwen's journey from servant to queen
April 29, 2013
by
Noelene Clark
The final season of the fantasy adventure series "
Merlin
" resumes on
Syfy
Friday evening after several weeks hiatus and the new episode, "
With All My Heart
," focuses on Queen Guinevere.
"
Merlin
" has been massively popular in the U.K., where it rivaled "
Doctor Who
" in ratings, wrapping up last Christmas with a tragic, two-part season finale. In the U.S., the fifth and final season is airing on
Syfy
.
In the show, Gwen, played by
Angel Coulby
, is in many ways the moral compass of Camelot, influencing the decisions of her husband King Arthur Pendragon (
Bradley James
) and the secret sorcerer Merlin (
Colin Morgan
). She began as a maidservant to Morgana, now an evil sorceress, and now rules Camelot alongside Arthur.
Hero Complex caught up with
Coulby
to talk about Gwen's journey and the success of "
Merlin
..."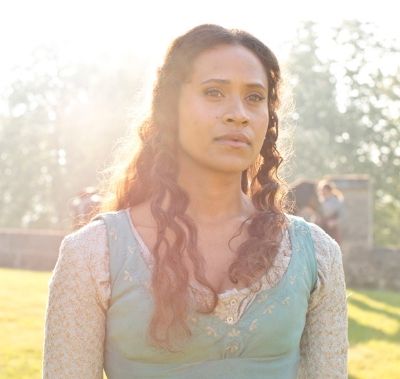 ...
Hero Complex: Did you read any of the source material? "The Once and Future King"?
Angel Coulby
: "
I didn't, really. I've actually just been given the "Once and Future King," the book, so I might start reading it now, but in terms of the way that we were telling the story — although it sort of ended up following the legend — I vaguely knew the story of the Lady of the Lake and Lancelot and Arthur and Guinevere, but I hadn't actually read any literature on it, because it was such a different sort of twist on the show that it wasn't necessary. … The audience is a family audience, and obviously there are a lot of other storylines within the original legend that probably wouldn't have been appropriate for our show. There's all sorts of stuff, incest and all sorts of things which wouldn't have gone down well with a family audience. So I think they did pretty well to factor in all the important points. Like the Arthur, Gwen and Lancelot love triangle — that could have been the death of the relationship between Arthur and Gwen, but instead they put a twist on it that made it possible for us to sort of carry on the series and for us get to the end point that they'd always planned. … Although I kind of like the stories, so I think right now is maybe the time to start reading the books...
"
Merlin
returns with the final five episodes on Friday, May 3, 2013 at 10/9C on
Syfy
.
LICK HERE TO VIEW THE EPISODE TRAILER FOR 'WITH ALL MY HEART'