Source: Syfy
schedulebot
[
NOTE: Syfy schedule subject to change(s)
]

SCIFI MOVIE MARATHON - SYFY: SCHEDULE SATURDAY, MARCH 16, 2013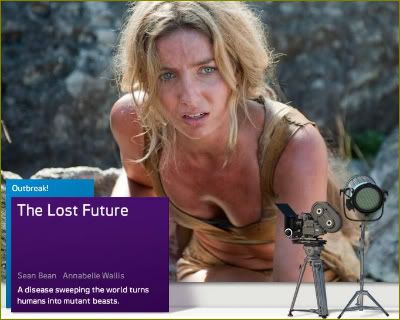 09:30 AM
The Lost Future
Set in a future where jungles have overtaken the remnants of civilization, a tribe struggles to survive amid mutated creatures that carry a deadly disease.
Cast includes
Game of Thrones'
Sean Bean, Corey Sevier, Sam Claflin, Annabelle Wallis, Eleanor Tomlinson, Hannah Tointon and Jonathan Pienaar.
11:30 AM
Children Of Men
Captivating thriller set in 2027 London, where no children are being born and a reluctant activist (
Clive Owen
) tries to protect a woman who becomes pregnant. Directed by
Alfonso Cuarón
, who co-wrote the script based on the
P.D. James
novel "
The Children of Men
."
Cast includes Clive Owen, Michael Caine, Chiwetel Ejiofor, Julianne Moore, Danny Huston, Charlie Hunnam, Paul Sharma, Tehmina Sunny and Pam Ferris.
01:30 PM
Repo Men
Organ-repo man Remy (
Jude Law
) is targeted by his former partner Jake (
Forest Whitaker
) after receiving a replacement heart and subsequently falling behind on payments for his new ticker. With the help of another debtor Beth (
Alice Braga
), Remy finds a way to beat the system and and fight back against the Union, a producer of artificial organs known for taking back body parts by force when recipients fail to pay the bill.
Cast includes Jude Law, Forest Whitaker, Alice Braga, Liev Schreiber,
Game of Thrones'
Carice van Houten, Chandler Canterbury, Joe Pingue and Liza Lapira.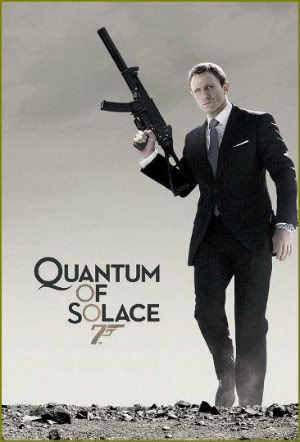 04:00 PM
Quantum Of Solace
James Bond (
Daniel Craig
) seeks to avenge betrayal by a loved one while trying to stop a renegade environmentalist from monopolizing the "world's most precious [natural] resource."
Judi Dench
returns as M, and
Jeffrey Wright
is again on board as CIA operative Felix Leiter.
Cast includes Daniel Craig, Olga Kurylenko, Mathieu Amalric, Judi Dench, Giancarlo Giannini, Gemma Arterton, Jeffrey Wright, David Harbour, Jesper Christensen, Anatole Taubman, Rory Kinnear, Tim Pigott-Smith, and briefly,
Castle's
Stana Katic.
06:30 PM
Terminator 3: Rise Of The Machines
Arnold Schwarzenegger's
smashing third go-round as the futuristic robot, or "cybernetic organism," battles a female terminator (
Kristanna Loken
), who is sent to assassinate John Connor (
Nick Stahl
), who's destined to become the leader of a worldwide resistance movement. The film picks up 10 years after the last installment of the sci-fi series.
Cast includes Arnold Schwarzenegger, Nick Stahl, Claire Danes, Kristanna Loken, David Andrews, Mark Famiglietti, Earl Boen, Moira Harris, Christopher Lawford, Jay Acovone and M.C. Gainey.
09:00 PM
Underworld: Evolution
Gory sequel finds the bloodsucking heroine (
Kate Beckinsale
) tracing the origins of the ancient feud between the tribes of vampires and werewolves.
Cast includes Kate Beckinsale,
Defiance's
Tony Curran, Derek Jacobi, Bill Nighy, Michael Sheen and Sophia Myles.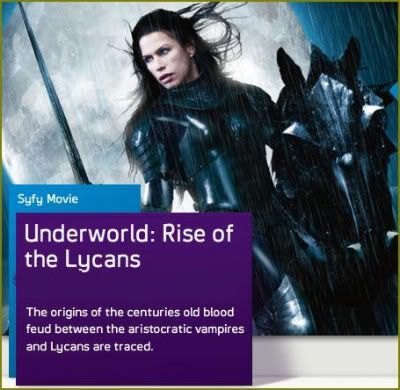 11:00 PM
Underworld: Rise Of The Lycans
A prequel to the first two Underworld films, this fantasy explains the origins of the feud between the Vampires and the Lycans. Aided by his secret love, Sonja (
Rhona Mitra
), courageous Lucian (
Michael Sheen
) leads the Lycans in battle against brutal Vampire king Viktor (
Bill Nighy
). Determined to break the king's enslavement of his people, Lucian faces off against the Death Dealer army in a bid for Lycan independence.
Cast includes Michael Sheen, Bill Nighy, Rhona Mitra, Steven Mackintosh, Kevin Grevioux, David Aston, Geraldine Brophy and Leighton Cardno.
01:00 AM
Terminator 3: Rise Of The Machines
03:30 AM
Repo Men