Source: Syfy
schedulebot
[
NOTE: Syfy schedule subject to change(s)
]

SHARKAPALOOZA MOVIE MARATHON - SYFY: SCHEDULE FRIDAY, MARCH 15, 2013
08:00 AM
Shark Zone
Great white sharks terrorize a beach community, and it's up to one man to stop them.
Cast includes Dean Cochran, Alan Austin, Brandi Sherwood, Velizar Binev, Luke Leavitt, Alexander Petrov, Franklin A. Vallette, Martin Dorcey, Jonas Talkington, Stefan Lysenko and Violeta Markovska.
10:00 AM
Dinoshark
A dinosaur-shark hybrid terrorizes a resort in Mexico, and it's up to a young fishing boat captain to stop it.
Cast include
Haven's
Eric Balfour, Iva Hasperger, Aarón Díaz, Humberto Busto and Richard Miller.
12:00 PM
Super Shark
A massive, primordial shark goes on a bloody killing spree after being set free during an offshore drilling mishap in this saltwater shocker starring
John Schneider
and
Jimmie "JJ" Walker
. As the tide runs red with blood, marine biologist Kat Carmichael (
Sarah Lieving
) finds her efforts to destroy the giant killing machine repeatedly foiled by shameless corporate shill Roger Wade (
Schneider
) and his scheming sidekick Stewart (
Jerry Lacy
). But when the beast begins using its flippers to walk on land, Kat recruits fearless Skipper Chuck (
Tim Abell
) and wisecracking DJ Dynomite Stevens (
Walker
) to blast it back into the ocean.
Cast includes John Schneider, Sarah Lieving, Tim Abell, Gerald Webb, Jimmie Walker, Jerry Lacy, Ted Monte, Catherine Annette, Trish Cook, Rick Cramer, John L. Curtis, J Ferguson, Michael Gaglio, Rebecca Grant, Blake Griffin, Carolyn Martin, Rya Meyers, Randy Mulkey, Jeff Murray and David Novak.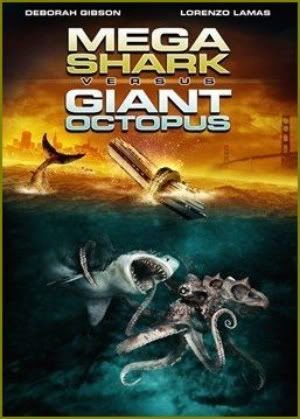 02:00 PM
Mega Shark Vs Giant Octopus
Two colossal prehistoric monsters terrorize the California coast while battling for supremacy of the sea in this salt-water creature feature starring Lorenzo Lamas and Deborah Gibson.
Cast includes Deborah Gibson, Lorenzo Lamas, Vic Chao, Jonathan Nation, Mark Hengst, Michael Teh and Chris Haley.
04:00 PM
Mega Shark Vs. Crocosaurus
A gigantic, immensely powerful shark does battle with a fierce primordial crocodile from Africa.
Cast includes Gary Stretch, Jaleel White, Sarah Lieving,
Star Trek: Voyager
/
Stargate Atlantis'
Robert Picardo, Gerald Webb, Dylan Vox, Hannah Cowley and Steve Mason.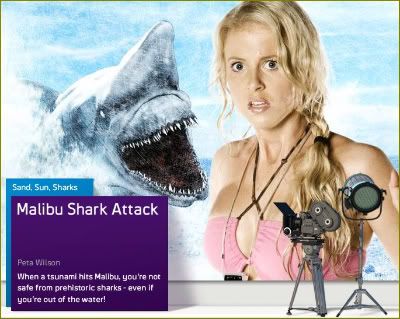 06:00 PM
Malibu Shark Attack
A tsunami brings goblin sharks to Malibu, CA, after a massive wave cuts lifeguards and construction workers off from dry land.
Cast includes Peta Wilson, Renee Bowen, Remi Broadway, Joel Amos Byrnes,
Alphas'
Warren Christie, Nicholas G. Cooper and Sonya Salomaa.
[Time out for Syfy Friday Programming]
03:00 AM
Malibu Shark Attack