Source: Syfy
schedulebot
[
NOTE: Syfy schedule subject to change(s)
]

LEPRECHAUN MOVIE MARATHON - SYFY: SCHEDULE SUNDAY, MARCH 17, 2013
09:00 AM
Scream Of The Banshee
In "
Scream of the Banshee
," when a college professor opens a mysterious and ornate box discovered hidden in the tunnels under her university, she and her students hear the horrifying scream of a bloodthirsty Banshee. Everyone who hears the scream is fated to die a strange and terrible death. Now the professor, her daughter and a few of her students must try to stop the Banshee.
Cast includes Lance Henriksen, Lauren Holly, Monica Acosta, Eric F. Adams, Marcelle Baer, Edrick Browne, Leanne Cochran, Thomas C. Daniel and Todd Haberkorn.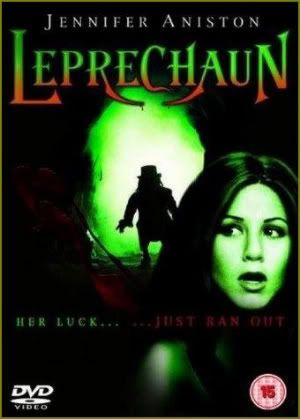 11:00 AM
Leprechaun
A man steals a leprechaun's pot of gold in Ireland, unwittingly setting himself up for the evil imp's bloodthirsty revenge.
Cast includes Warwick Davis, Jennifer Aniston, Ken Olandt, Mark Holton, Robert Hy Gorman and Shay Duffin.
01:00 PM
Leprechaun 2
On his 2000th birthday, an evil leprechaun is determined to claim as his bride the descendant of the one he was denied 1000 years earlier.
Cast includes Warwick Davis, Charlie Heath, Shevonne Durkin, Sandy Baron, Adam Biesk and James Lancaster.
03:00 PM
Leprechaun
05:00 PM
Leprechaun 2
07:00 PM
Leprechaun
09:00 PM
Leprechaun 2
11:00 PM
Leprechaun
01:00 AM
Leprechaun 2
03:00 AM
Scream Of The Banshee