Source: Syfy
schedulebot
[
NOTE: Syfy schedule subject to change(s)
]

CATASTROPHE MOVIE MARATHON - SYFY: SCHEDULE MONDAY, MARCH 11, 2013
10:00 AM
Ice Road Terror
An icy Alaskan road becomes more treacherous for two truckers after a mining operation awakens a dormant prehistoric creature.
Cast includes Brea Grant, Ty Olsson, Dylan Neal, Malcolm Stewart,
Battlestar Galactica's
Michael Hogan, Merrilyn Gann, David Lyle, William Bell, Jim Shield, Don Thompson and Sean O. Roberts.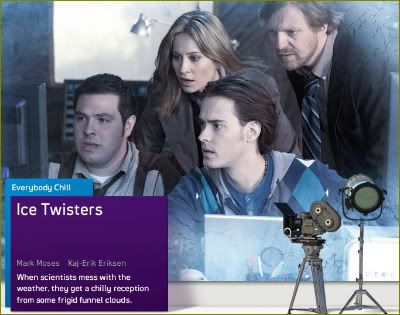 12:00 PM
Ice Twisters
Scientists seek the assistance of a science fiction novelist when a top-secret government program devoted to researching experimental weather manipulation techniques results in the creation of deadly tornadoes made of ice.
Cast includes Mark Moses, Camille Sullivan, Kaj-Erik Eriksen, Alex Zahara, Ryan Kennedy, Robert Moloney,
Defiance's
Dion Johnstone and Ingrid Torrance.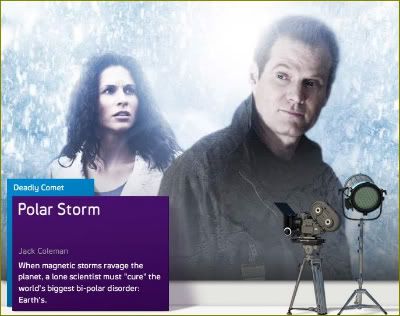 02:00 PM
Polar Storm
Magnetic storms wreak havoc after a meteor nearly hits Earth.
Cast includes Jack Coleman, Holly Elissa Lamaro, Tyler Johnston, Terry David Mulligan,
Continuum's
Roger R. Cross and David Lewis.
04:00 PM
Stake Land
After vampires overtake America, orphaned teen Martin (
Connor Paolo
) and survivalist Mister (
Nick Damici
) find themselves locked in a battle against a dangerous religious cult lead by the diabolical Jebedia Loven (
Michael Cerveris
). Later, Martin and Mister are joined by a group of weary travelers trying to find a sanctuary known as New Eden.
Cast includes Nick Damici, Connor Paolo, Sean Nelson,
Fringe's
Michael Cerveris, Bonnie Dennison, Chance Kelly, Tim House, Larry Fessenden and Kelly McGillis.
06:00 PM
Daybreakers
The vampire genre is given a novel approach with lackluster results in this noir-ish horror film from the Australian filmmaking team of
Michael
and
Peter Spierig
. Existing in the near future, the picture hypothesizes a vampiric takeover of the Earth wherein the fanged population continues to go about their lives while humankind is drained of blood in order to keep the masses alive. The film's most delectable bits come when the vamps go through withdrawal and transform into blood-thirsty monsters, hungry for sustenance from wherever they can get it -- including themselves.
Cast includes Ethan Hawke, Willem Dafoe, Sam Neill, Claudia Karvan, Michael Dorman, Isabel Lucas and Vince Colosimo.