Source: Syfy
schedulebot
[
NOTE: Syfy schedule subject to change(s)
]

MIXED GENRE MOVIE MARATHON - SYFY: SCHEDULE THURSDAY, MARCH 28, 2013
(A
Reese's Movie Cup
- Hey, you've got your
Horror Movies
mixed with the
SciFi Movies
!)
09:00 AM
Open Graves
A group of American students in Spain stumbles across a sinister board game, in which the loser eventually suffers a terrible death.
Cast includes Mike Vogel, Eliza Dushku, Ethan Rains, Naike Rivelli and Lindsay Caroline Robba.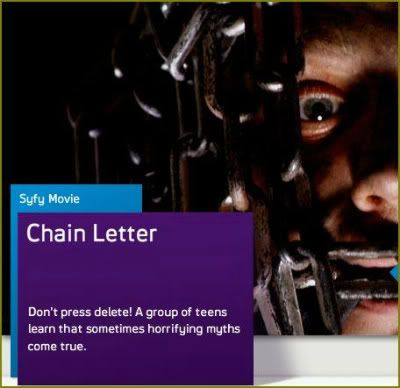 11:00 AM
Chain Letter
Jessie Campbell (
Nikki Reed
) and her friends receive a threatening e-mail claiming they will all die if they fail to keep the message circulating.
Cast includes Madison Bauer, Mark S. Allen, Phil Austin, Nikki Reed, Michael Bailey Smith, Michael J. Pagan, Matt Cohen, Brad Dourif and Keith David.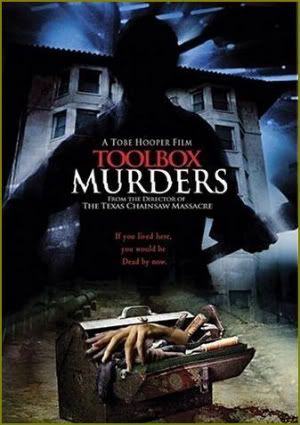 01:00 PM
Toolbox Murders
New to Los Angeles, Nell and Steven Barrow (
Angela Bettis
and
Brent Roam
) rent an apartment in the run-down Lusman Arms building in this gruesome slasher flick from
Tobe Hooper
. Soon, Nell begins to notice that young women in the building are meeting violent deaths. With the help of nice-guy actor "Jazz" Rooker (
Rance Howard
), Nell starts investigating -- and makes some disturbing discoveries.
Cast includes Angela Bettis, Brent Roam, Marco Rodríguez, Rance Howard,
Angel's
Juliet Landau, Adam Gierasch and Greg Travis.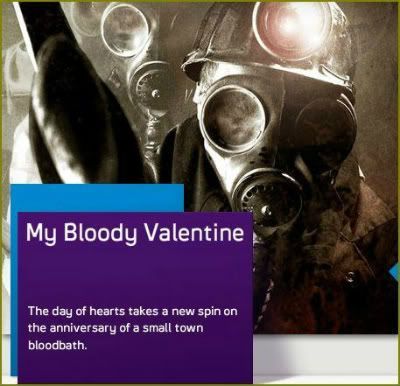 03:00 PM
My Bloody Valentine
Remake of the 1981 slasher classic about a homicidal maniac terrorizing a small mining town on Valentine's Day.
Cast includes
Supernatural's
Jensen Ackles, Jaime King, Kerr Smith, Betsy Rue, Edi Gathegi, Tom Atkins, Kevin Tighe and Megan Boone.
06:00 PM
My Soul To Take
A serial killer returns 16 years after his death to claim the seven children born on the night he was killed. Meanwhile, the maniac's son Adam (
Max Thieriot
)---one of his intended victims---battles to lay his father's bloody legacy to rest.
Cast includes Max Thieriot, John Magaro, Denzel Whitaker, Zena Grey, Nick Lashaway, Paulina Olszynski, Jeremy Chu, Emily Meade, Raúl Esparza, Jessica Hecht, Frank Grillo, Danai Gurira, Harris Yulin, Shareeka Epps, Elena Hurst, Dennis Boutsikaris and Felix Solis.
08:00 PM
Contact
An admirable attempt to examine the moral, political, social and religious implications of mankind's first contact with extraterrestrial intelligence, via the unyielding character of fiercely dedicated scientist Ellie Arraway (
Jodie Foster
), for whom the pursuit of knowledge is a holy quest.
Cast includes Jodie Foster, Jena Malone, David Morse, Matthew McConaughey, Geoffrey Blake, William Fichtner, Sami Chester, Timothy McNeil, Tom Skerritt, Max Martini, Larry King, James Woods, Angela Bassett, Donna Kelley, Leon Harris, Claire Shipman, Tabitha Soren, Geraldo Rivera, Jay Leno, Natalie Allen, Robert D. Novak, Geraldine A. Ferraro, Ann Druyan, Rob Lowe, Jake Busey, Kathleen Kennedy, John Hurt, Jill Dougherty, John Holliman, Bobbie Battista, Dee Dee Myers, Bryant Gumbel, Linden Soles, Steven Ford and Tucker Smallwood.
11:30 PM
Stargate: The Ark Of Truth
Stargate SG-1 cast includes Amanda Tapping, Christopher Judge, Michael Shanks, Ben Browder, Claudia Black and Beau Bridges.
The
SG-1
team searches for an ancient artifact that will enable them to defeat their enemies, the Ori. Written and directed by
Robert C. Cooper
.
Guest stars include Currie Graham,
Homeland's
Morena Baccarin,
Revolution's
Tim Guinee, Julian Sands, Sarah Strange, Michael Beach, Gary Jones, Martin Christopher,
Eureka's
, Chris Gauthier, Eric Breker, Matthew Walker, Alisen Down, Gabrielle Rose, Fabrice Grover, Spencer Maybee, Greg Anderson, Doug Abrahams and Morris Chapdelaine.
01:30 AM
Stargate: Continuum
Stargate SG-1 cast includes Richard Dean Anderson, Amanda Tapping, Christopher Judge, Michael Shanks, Ben Browder, Claudia Black and Beau Bridges.
After two members of the
SG-1
team disappear into thin air, the remaining members of the elite military unit return to Earth and discover that their history has been erased.
Guest stars include William Devane, Cliff Simon, Don S. Davis, Steve Bacic, Gary Jones, Jacqueline Samuda, Peter Williams, Ron Halder, Vince Crestejo, Jay Williams,
Falling Skies'
Colin Cunningham, Michael Bernacchi, Wesley K. Koshoffer, Jason M. Geddes, Alan M. Roche and Barry Campbell.

03:30 AM
Red Faction: Origins
A family drama plays out as enemy forces clash over Mars 25 years after the planet was liberated from oppressive Earth forces in this sci-fi action film set in the universe established by the Red Faction video-game franchise.
Cast includes
Stargate Universe's
Brian J. Smith, Robert Patrick, Danielle Nicolet, Kate Vernon, Tamzin Merchant, Devon Graye, Gordon Kennedy and Gareth David-Lloyd.