Source:
Arkalis Interactive
You Tube channel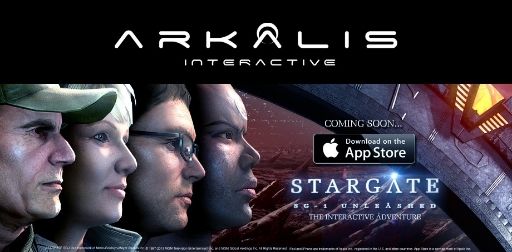 STARGATE SG-1 - ARKALIS INTERACTIVE VIDEO: CHRISTOPHER JUDGE: MAKING OF STARGATE SG1 UNLEASHED
STARGATE SG-1: UNLEASHED
IS AVAILABLE, DOWNLOAD IT NOW! this great game that has the original cast voices including
Chris Judge
, that was so happy to participate in this project,
Stargate SG-1: Unleashed
is available now for iOS and soon in Android and Steam.
Download the game here:
https://itunes.apple.com/us/app/stargate-sg-1-unleashed-ep-1/id608911836?l
STARGATE SG-1: UNLEASHED
is going out in March 14th in the Appstore, check some of the 100% new story that our game brings.
Episode 1 launches on iOS on March 14th!
You get to be the
SG-1
team, not just one character, but actually play as O'Neill, Carter and Jackson in a totally new engaging story based on the original
Stargate SG-1
TV series.
Starring the voices of
Richard Dean Anderson
as Jack O'Neill,
Amanda Tapping
as Samantha Carter,
Michael Shanks
as Daniel Jackson and
Christopher Judge
as Teal'c in an all new immersive third-person adventure you can enjoy on your iPad or iPhone.