Source:
TV Guide
[follow link for complete photo gallery]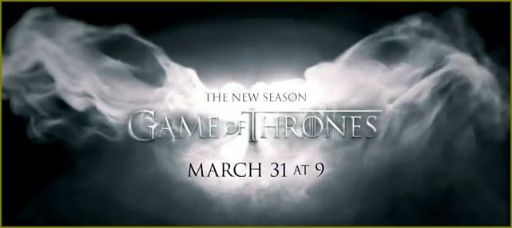 TV GUIDE: Returning Spring Shows: Where We Left Off
Game of Thrones
(HBO)
Premieres
: Sunday, March 31 at 9/8c
Where We Left Off
: After the triumph over Stannis at Blackwater, King Joffrey broke his betrothal to Sansa and became engaged to Margaery Tyrell instead, while his uncle Tyrion lost his position as Hand of the King to Tywin Lannister. Meanwhile, Robb Stark wed Lady Talisa despite his arranged marriage to another; Theon Greyjoy was betrayed by his men; Jon Snow killed Qorin Halfhand; Brienne escorted Jaime Lannister to King's Landing; Arya escaped Harrenhal and Daenerys reunited with her dragons.
What's Next
: The King Beyond the Wall Mance Rayder leads the wildings and Jon Snow towards Westeros, and across the Narrow Sea, Daenerys goes to Slaver's Bay to find help for her quest to take back the Iron Throne. Meanwhile, Sansa (finally!) makes new friends; Robb and Catelyn must deal with the consequence of his breaking his word; Brienne and Jaime have a reversal of fortune; and Arya encounters someone on her hit list. Oh, we'll also find out Theon's grim fate and a fan favorite will surely die. Seven hells!
CLICK HERE TO VIEW A PROMO TRAILER FOR GAME OF THRONES SEASON 3