Source: Syfy
schedulebot
[
NOTE: Syfy schedule subject to change(s)
]

WAREHOUSE 13 - SYFY: MARATHON SCHEDULE THURSDAY, AUGUST 16, 2012
Warehouse 13 cast includes Eddie McClintock, Joanne Kelly, Saul Rubinek, Genelle Williams, Allison Scagliotti, CCH Pounder and Aaron Ashmore.
11:00 PM
A New Hope
Following the destruction of Warehouse 13, the team races halfway around the globe in search of a dangerous artifact in the Season 4 premiere.
Guest stars include
Star Trek: The Next Generation's
Brent Spiner, Anthony Michael Hall, Faran Tahir, Lester Holt, Ed Schultz, CCH Pounder, Jaime Murray, Lucy Filippone and Randy Butcher.
12:00 AM
An Evil Within
Pete (
Eddie McClintock
) and Myka (
Joanne Kelly
) investigate when angry mobs hallucinate en masse and attack innocent people.
Guest stars include Brent Spiner, Faran Tahir,
Star Trek: Voyager's
Kate Mulgrew, Bernadette Couture, Seann Gallagher, Lori Nancy Kalamanski and Joel Lacoursiere.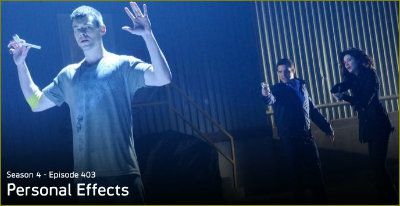 01:00 AM
Personal Effects
A small town is threatened by a box of artifacts.
Guest stars include
Star Trek Universe's
Brian J. Smith, Dee Wallace, Philip Williams, Pat Thornton, Laura Miyata, Kirsten Bishop, Mathew Peart, Lee Smart, Ann Turnbull and Brian Young.
02:00 AM
There's Always A Downside
Hugo (
Rene Auberjonois
) resurfaces to help track down an artifact at his nephew's prep school. Meanwhile, another artifact threatens the life of a musician in New Orleans.
Being Human's
Sam Huntington guest stars.
Additional guest stars include
Star Trek: The Next Generation's
Brent Spiner,
Star Trek: Deep Space Nine's
Rene Auberjonois, Kevin Alves, Andrew Pigott and Tommie-Amber Pirie.