Source: Syfy
schedulebot
[
NOTE: Syfy schedule subject to change(s)
]
HORROR MOVIE MARATHON - SYFY: SCHEDULE SATURDAY, AUGUST 18, 2012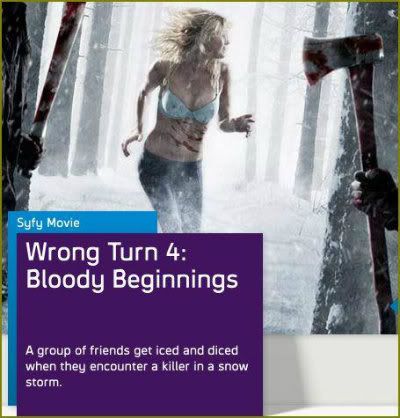 10:30 AM
Wrong Turn 4: Bloody Beginnings
Tenika Davis
stars in this horror prequel about a group of college students who stumble upon an abandoned sanatorium and are hunted by the facility's former patients.
Cast includes Sean Skene, Blane Cypurda, Dan Skene, Tristan Carlucci, Scott Johnson, Bryan Verot, Jennifer Pudavick, Tenika Davis, Kaitlyn Wong, Terra Vnesa, Victor Zinck Jr., Dean Armstrong, Ali Tataryn, Samantha Kendrick, Arne MacPherson and Kristen Harris.
12:30 PM
Jeepers Creepers
A brother and sister's road trip takes a surprising turn when they encounter a terrifying supernatural being.
Cast includes Justin Long, Gina Philips, Jonathan Breck,
Bones'
Patricia Belcher and Eileen Brennan.
02:30 PM
Jeepers Creepers 2
Writer-director
Victor Salva'
s inevitable follow-up to the surprise success
JEEPERS CREEPERS
(2001) picks up immediately after the events of the first film, in which a mysterious demon — the Creeper — emerges from its cyclical hibernation to devour unwary country folk.
Cast includes Ray Wise, Jonathan Breck, Garikayi Mutambirwa, Eric Nenninger, Nicki Aycox, Travis Schiffner, Lena Cardwell and Billy Aaron Brown.
04:30 PM
Resident Evil
A special military unit fights a powerful, out-of-control supercomputer and hundreds of scientists who have mutated into flesh-eating creatures after a laboratory accident.
Cast includes Colin Salmon, Milla Jovovich, Michelle Rodriguez, Eric Mabius, James Purefoy, Martin Crewes, Ryan McCluskey and Oscar Pearce.
06:30 PM
Dawn Of The Dead
A nurse, a policeman, a young married couple, a salesman, and other survivors of a worldwide plague that is producing aggressive, flesh-eating zombies, take refuge in a mega Midwestern shopping mall.
Cast includes Sarah Polley, Ving Rhames, Jake Weber, Mekhi Phifer, Ty Burrell, Michael Kelly, Kevin Zegers and
Stargate Universe's
Louis Ferreira.
09:00 PM
Daybreakers
-
Syfy Premiere!
The vampire genre is given a novel approach with lackluster results in this noir-ish horror film from the Australian filmmaking team of
Michael
and
Peter Spierig
. Existing in the near future, the picture hypothesizes a vampiric takeover of the Earth wherein the fanged population continues to go about their lives while humankind is drained of blood in order to keep the masses alive. The film's most delectable bits come when the vamps go through withdrawal and transform into blood-thirsty monsters, hungry for sustenance from wherever they can get it -- including themselves.
Cast includes Ethan Hawke, Willem Dafoe, Sam Neill, Claudia Karvan, Michael Dorman, Isabel Lucas and Vince Colosimo.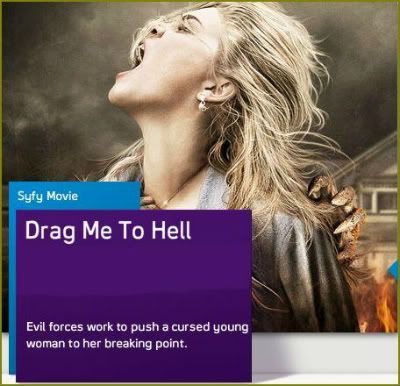 11:00 PM
Drag Me To Hell
Ambitious L.A. loan officer Christine Brown (
Alison Lohman
) incurs the wrath of a malevolent gypsy by refusing to grant her an extension on her home loan. Determined to get a promotion at work, Christine lays down the law when mysterious Mrs. Ganush literally begs for mercy at her feet. In retaliation, Mrs. Ganush places the curse of Lamia on her unfortunate target. Now, unless Christine can break the curse, she'll be tormented by a demon for three days before literally being dragged to hell.
Cast includes Alison Lohman, Justin Long, Lorna Raver, Dileep Rao, David Paymer, Adriana Barraza, Chelcie Ross,
Grimm's
Reggie Lee, Molly Cheek, Bojana Novakovic, Kevin Foster and
Stargate SG-1's
Alexis Cruz.
01:00 AM
Dawn Of The Dead
03:30 AM
Planet Terror
A go-go dancer and her ex lead a ragtag group fighting for survival after a bio-weapon mishap creates an army of zombies.
Robert Rodriguez
wrote and directed this gory homage to exploitation flicks.
Cast includes Rose McGowan, Freddy Rodríguez, Josh Brolin, Marley Shelton, Jeff Fahey, Michael Biehn, Bruce Willis, Naveen Andrews and Danny Trejo.