Source: Syfy
schedulebot
[
NOTE: Syfy schedule subject to change(s)
]
MYTHOLOGICAL CREATURES MOVIE MARATHON - SYFY: SCHEDULE FRIDAY, AUGUST 17, 2012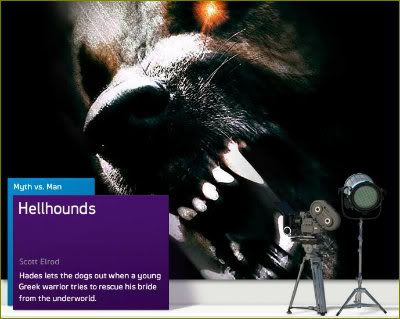 08:00 AM
Hellhounds
A Greek warrior must travel to the Underworld and battle killer hellhounds in order to rescue his murdered bride from the clutches of Hades.
Cast includes Ben Cross, Scott Elrod, Adam Butcher, Amanda Brooks, James A. Woods, Andrew Howard, Olivia Nita, Marius Chivu and Theodor Danetti.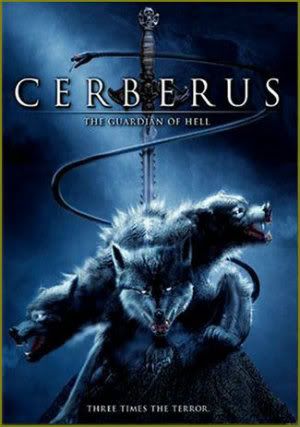 10:00 AM
Cerberus
An art historian (
Emmanuelle Vaugier
) is forced to help terrorists search for the fabled sword of Attila the Hun, which makes its owner invincible---but it's guarded by a three-headed hellhound.
Cast includes Greg Evigan, Emmanuelle Vaugier, Sebastian Spence, Garret Sato, Bogdan Uritescu, Gabi Andronache, Michael Cory Davis, Brent Florence and Catalin Paraschiv.
12:00 PM
Manticore
Heather Donahue
("
The Blair Witch Project
"),
Robert Beltran
("
Star Trek: Voyager
"), and
Chase Masterson
("
Star Trek: Deep Space Nine
") star in this horror movie pitting U.S. soldiers in Iraq against a half-lion, half-dragon mythological beast.
Cast includes Robert Beltran, Jeff Fahey, Chase Masterson, Heather Donahue, Faran Tahir, A.J. Buckley, Jeff M. Lewis and Richard Gnolfo.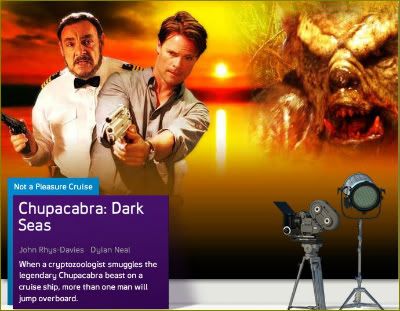 02:00 PM
Chupacabra: Dark Seas
Man-unleashes-uncontrollable-monster yarn pits a ship's crew against a scientist's latest discovery---a mythic Caribbean creature.
Cast includes John Rhys-Davies, Dylan Neal, Chelan Simmons, Giancarlo Esposito, Paula Shaw and David Millbern.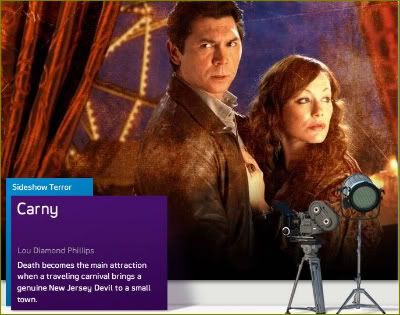 04:00 PM
Carny
A small-town sheriff (
Lou Diamond Phillips
) contends with a creature that escaped from a carnival.
Cast includes
Longmire's
Lou Diamond Phillips, Alan C. Peterson, Vlasta Vrana and Dominic Cuzzocrea.
06:00 PM
Morlocks
A scientist's time-traveling device sends people into the future, where they come into contact with lethal humanoid monsters that figure out how to travel back to the present.
Cast includes
Stargate Atlantis'
David Hewlett and Robert Picardo; Christina Cole, Hamish Clark, Shelly Varod, Jim Fyfe, Ray Fearon, Iain McKee, Marem Hassler and Daniel Caltagirone.