Source: Syfy
schedulebot
[
NOTE: Syfy schedule subject to change(s)
]
SCIFI MOVIE MARATHON - SYFY: SCHEDULE MONDAY, AUGUST 13, 2012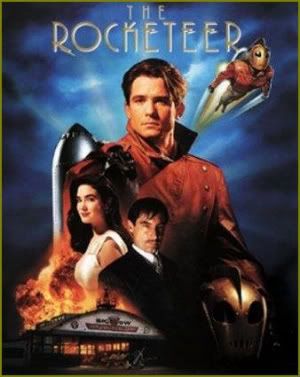 08:30 AM
The Rocketeer
In 1938 Los Angeles, a pilot (
Bill Campbell
) finds a rocket-pack that enables him to fly.
Cast includes Bill Campbell, Jennifer Connelly, Alan Arkin, Jon Polito, Timothy Dalton, Paul Sorvino, William Sanderson, Margo Martindale, Melora Hardin, Terry O'Quinn, Ed Lauter and James Handy.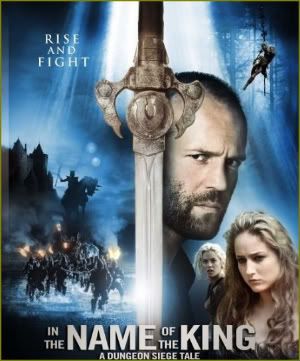 11:00 AM
In The Name Of The King: A Dungeon Siege Tale
Inconsistent accents, anachronistic performances and low-rent special effects abound in this medieval fantasy, which pits action star
Jason Statham
against armor-clad monster warriors, a wicked wizard and scantily-clad, man-hating wood sprites.
Cast includes Jason Statham, Leelee Sobieski, John Rhys-Davies, Ron Perlman, Claire Forlani, Kristanna Loken, Matthew Lillard, Mike Dopud, Ray Liotta and Burt Reynolds.
01:30 PM
End Of Days
At the end of the century, Satan visits New York in search of a bride. It's up to an ex-cop who now runs an elite security outfit to stop him.
Cast includes Arnold Schwarzenegger, Gabriel Byrne,
The Mentalist's
Robin Tunney, Kevin Pollak,
Warehouse 13's
CCH Pounder, Derrick O'Connor, David Weisenberg and Victor Varnado.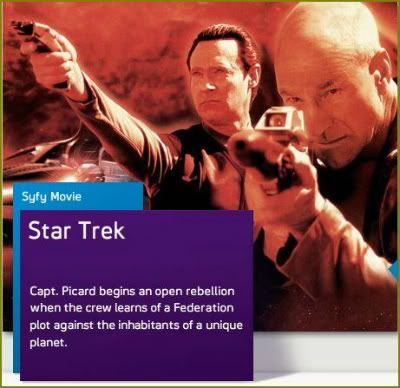 04:00 PM
Star Trek: Insurrection
The ninth film in the series finds Capt. Picard (
Patrick Stewart
) and his crew questioning orders from Starfleet regarding a planet with mystical powers. Ambitious but sluggish. Directed by
Jonathan Frakes
, who plays Cdr. Riker.
Cast includes Patrick Stewart, Jonathan Frakes, Brent Spiner,
Perception's
LeVar Burton, Michael Dorn, Gates McFadden, Marina Sirtis, F. Murray Abraham, Donna Murphy, Anthony Zerbe, Gregg Henry, Daniel Hugh Kelly and Michael Welch.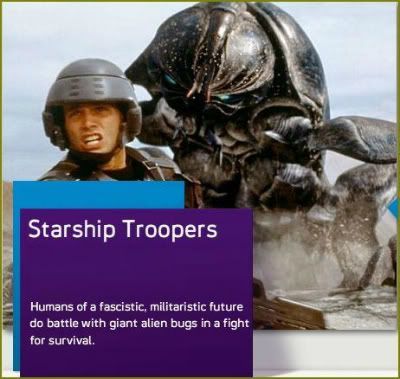 06:00 PM
Starship Troopers
Ultraviolent futuristic thriller about coed infantry trainees preparing to wipe out mankind's newest enemy: giant bugs from outer space.
Cast includes Casper Van Dien, Dina Meyer, Denise Richards, Jake Busey, Neil Patrick Harris, Clancy Brown, Patrick Muldoon, Michael Ironside, Marshall Bell, Bruce Gray, Robert David Hall, Timothy Omundson and Dale Dye.