Source:
MSN TV
[follow link for complete column]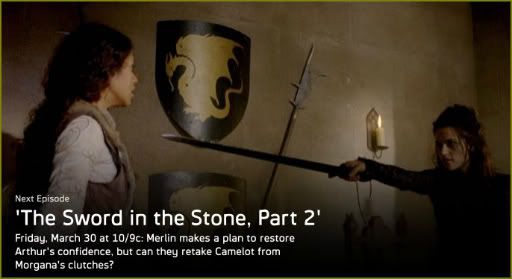 MSN TV: TONIGHT'S PICKS FRIDAY, MARCH 30, 2012
...
Merlin
10:00 PM, SYFY
In the conclusion of the season finale, "
The Sword in the Stone
," Morgana and Helios (
Katie McGrath, Terence Maynard
) have captured Camelot, and Merlin and Arthur (
Colin Morgan, Bradley James
) are on the run, trapped in Ealdor with an army closing in. Arthur must take control before Camelot is lost forever, but he has lost his conviction. Only Merlin can restore his faith, and only an extraordinary act can prove to him that he was born to rule.