Source:
Syfy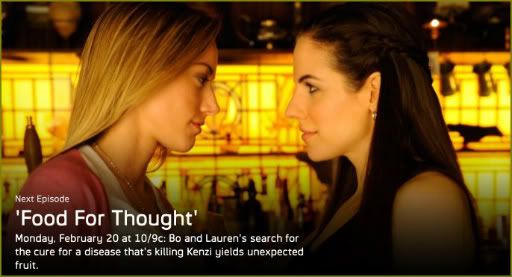 LOST GIRL - SYFY VIDEO: 'FOOD FOR THOUGHT' EPISODE TRAILER - AIRS MONDAY, FEBRUARY 20, 2012 AT 10/9C
Bo and Lauren's search for the cure for a disease that's killing Kenzi yields unexpected fruit. Lost Girl Monday at 10/9c.
While tagging after Lauren (
Zoie Palmer
) and Bo (
Anna Silk
) in the Fae world, Kenzi (
Ksenia Solo
) becomes deathly ill (and incredibly grossed-out) when she inadvertently eats some toxic human soup at the home of an Aswang - sending Bo and Lauren on a daring undercover mission in search of a cure, at a powerful pharmaceutical company.
As Bo and Lauren race to save Kenzi, they are each forced to face their varying control issues – with surprising results – underscoring their growing attraction and the beginning of a possible relationship.
Guest stars include Lynne Griffin, Karen Glave, Hrant Alianak, Laura DeCarteret and Julian Richings.