Source: Syfy
schedulebot
ADVENTURE MOVIE MARATHON - SYFY: SCHEDULE MONDAY, FEBRUARY 20, 2012
09:30 AM
Dragon Dynasty
He was the first European explorer to reach China. And if two dragons have their way, he'll be the last.
Cast includes Federico Castelluccio, Aaron Hendry, Dion Basco, Peter Kwong, James Hong and
Castle's
Stana Katic.
11:30 AM
Gryphon
(also known as:
Attack of the Gryphon
)
Jonathan LaPaglia
and
Amber Benson
star in this fantasy tale about a prince and a princess who unite to battle a flying monster conjured by a scheming wizard.
Cast includes Jonathan LaPaglia, Larry Drake, Amber Benson, Andrew Pleavin, Douglas Roberts, Ashley Artus and Sarah Douglas.
01:30 PM
Pterodactyl
A dormant volcano deep with the Turkish forest holds within it a deadly secret. Perfectly preserved, a nest of pterodactyl eggs are ready to hatch.
Cast includes Cameron Daddo, Coolio, Amy Sloan, George Calil, Ivo Cutzarida, Steve Braun, Mircea Monroe and
Stargate Atlantis'
David Nykl.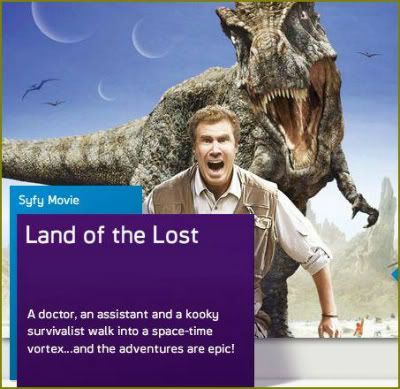 03:30 PM
Land Of The Lost
Discredited scientist Dr. Rick Marshall (
Will Ferrell
) proves his outrageous theories on time travel are true, but in the process he gets stranded with his partners in a strange world full of unusual creatures. His loyal research assistant Holly (
Anna Friel
) and firearms enthusiast Will (
Danny McBride
) help Marshall befriend a monkey-like beast named Chaka (
Jorma Taccone
) in an attempt to get back home.
Cast includes Will Ferrell, Anna Friel, Danny McBride, Jorma Taccone and John Boylan.
05:30 PM
Signs
Downbeat family drama and supernatural menace converge in writer-director
M. Night Shyamalan's
low-voltage thriller. Recently widowed Episcopalian minister Graham Hess (
Mel Gibson
), who experienced a spiritual crisis when his wife died in a freak accident, must weather a dark night of the soul with only common sense to guide him. Without his faith, Graham is hard put to cope with the increasingly ominous phenomena that follow the mysterious appearance of giant crop circles in the corn field behind the farmhouse he shares with his youngsters, Morgan (
Rory Culkin
) and Bo (
Abigail Breslin
), and his younger brother, Merrill (
Joaquin Phoenix
).
Cast includes Mel Gibson, Joaquin Phoenix, Rory Culkin, Abigail Breslin, Cherry Jones, M. Night Shyamalan, Patricia Kalember, Ted Sutton, Merritt Wever, Lanny Flaherty and Marion McCorry.