Source: Syfy
schedulebot
HORROR MOVIE MARATHON - SYFY: TUESDAY, DECEMBER 27, 2011
05:00 PM
Boogeyman 2
Patients in a psychiatric hospital are terrorized by a creature of the dark.
Cast includes Danielle Savre, Matt Cohen, Christine Griffith, Michael Graziadei, Mae Whitman, Renée O'Connor and Tobin Bell.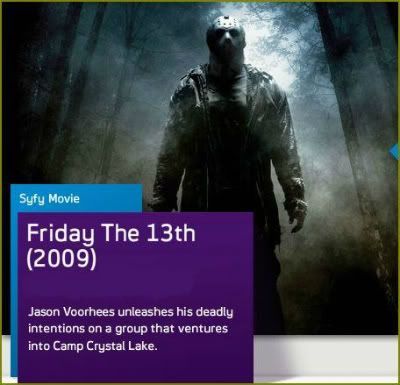 07:00 PM
Friday The 13th (2009)
Remake finds vacationing college students joining a young man (
Jared Padalecki
) searching for his missing sister at Camp Crystal Lake, home of machete-wielding, hockey-masked Jason Voorhees (
Derek Mears
).
Cast includes
Supernatural's
Jared Padalecki, Danielle Panabaker,
The Mentalist's
Amanda Righetti, Travis Van Winkle, Aaron Yoo, Derek Mears and Jonathan Sadowski.
09:00 PM
Halloween (2007)
After being committed for 17 years, Michael Myers, now a grown man and still very dangerous, escapes from the mental institution (where he was committed as a 10 year old) and he immediately returns to Haddonfield, where he wants to find his baby sister, Laurie. Anyone who crosses his path is in mortal danger.
Cast includes Malcolm McDowell, Scout Taylor-Compton, Tyler Mane, Sheri Moon Zombie, William Forsythe, Danielle Harris, Kristina Klebe, Skyler Gisondo, Danny Trejo, Brad Dourif, Richard Lynch, Clint Howard, Dee Wallace and Sid Haig.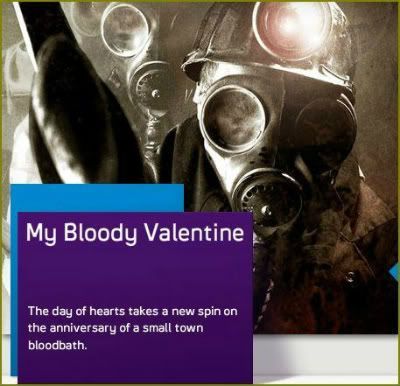 11:30 PM
My Bloody Valentine
Remake of the 1981 slasher classic about a homicidal maniac terrorizing a small mining town on Valentine's Day.
Cast includes
Supernatural's
Jensen Ackles, Jaime King, Kerr Smith, Betsy Rue, Edi Gathegi, Tom Atkins, Kevin Tighe and Megan Boone.
01:30 AM
P2
Predictable thriller about a businesswoman (
Rachel Nichols
) who is trapped in an underground parking garage on Christmas Eve and terrorized by a psychopathic security guard (
Wes Bentley
).
Cast includes Wes Bentley, Rachel Nichols, Simon Reynolds, Philip Akin and Miranda Edwards.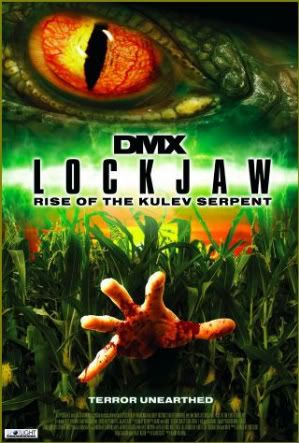 03:30 AM
Lockjaw: Rise Of The Kulev Serpent
A giant serpent conjured by a voodoo stick menaces a group of vacationing teens in a small farming community.
Cast includes DMX, Wes Brown, Louis Herthum and Lauren Fain.