Source:
BBC America
You Tube channel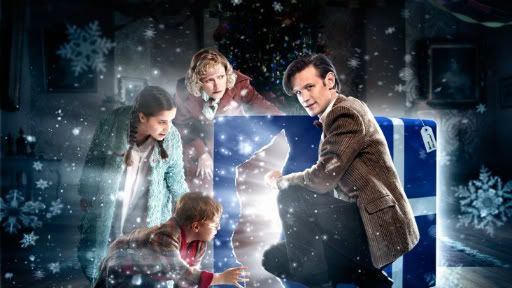 DOCTOR WHO - BBC AMERICA VIDEO FEATURETTE: Producer Marcus Wilson on Christmas Episode, 'The Doctor, The Widow and The Wardrobe,' Premiering Sunday, December 25, 2011 at 9/8C
Watch an exclusive interview with
DOCTOR WHO
Series Producer
Marcus Wilson
about the 2011 Christmas Special,
DOCTOR WHO
: T
HE DOCTOR, THE WIDOW AND THE WARDROBE
, before the Christmas Day premiere *** Sunday Dec 25 at 9/8c *** on BBC America.
Find out why Wilson describes it as "a lovely family story, a very heartfelt, emotional romantic story" with a "really strong cast." And discover why he thinks lead writer/Executive Producer
Steven Moffat
has "really outdone himself this time."
In
DOCTOR WHO
:
THE DOCTOR, THE WIDOW AND THE WARDROBE
, it's Christmas Eve, 1938, when Madge Arwell comes to the aid of an injured Spaceman Angel as she cycles home. He promises to repay her kindness -- all she has to do is make a wish. Three years later, a devastated Madge escapes war-torn London with her two children for a dilapidated house in Dorset. She is crippled with grief at the news her husband has been lost over the channel, but determined to give Lily and Cyril the best Christmas ever. The Arwells are surprised to be greeted by a madcap caretaker whose mysterious Christmas gift leads them into a magical wintry world. Here, Madge will learn how to be braver than she ever thought possible. And that wishes can come true...
Starring: Matt Smith, Claire Skinner, Bill Bailey, Arabella Weir, Holly Earl, Maurice Cole and Alexander Armstrong.