Source:
Syfy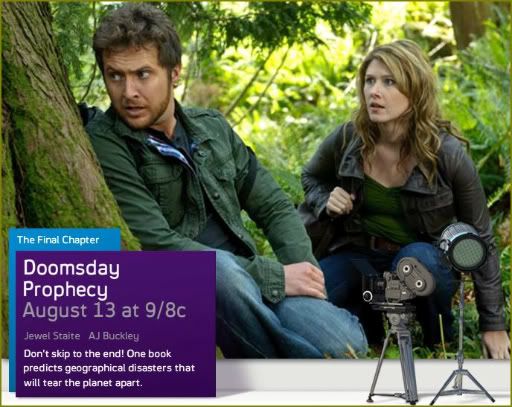 JEWEL STAITE - 'DOOMSDAY PROPHECY' - SYFY: 'The Rod' Sneak Peek Airs Saturday, August 13, 2011 at 9/8C
Watch a sneak peek for the upcoming Syfy Original Movie "Doomsday Prophecy." Premieres Saturday August 13 9/8C.
When a sudden rash of worldwide geological disturbances threatens the planet, a desperate search begins for a vanished author who is believed to hold the key in predicting future disasters. But the author is soon discovered dead and in his possession is an ancient Divining Rod - a device that bestows visions of the future upon those who hold it
As the Divining Rod paints a bleak vision for Earth's future, it's a race against time to find the whereabouts of ancient devices that can counteract the devastating geological disturbances that are literally splitting the planet apart...
Cast includes
Stargate Atlantis'
Jewel Staite, A.J. Buckley, Gordon Tootoosis, Fernando Lara, Matthew Kevin Anderson, Rick Ravanello, David Richmond-Peck, Bruce Ramsay, Hiro Kanagawa, Jerry Wasserman, Phillip Mitchell, Roseanne Supernault and Alan Dale.