Source:
Collider
[follow link for complete interview]
DOCTOR WHO - COLLIDER: Matt Smith and Karen Gillan Interview
by
Christina Radish
August 2nd, 2011
After a very impressive and shocking first half of the season, that left viewers waiting on the edge of their seats to find out how one of the most exciting cliff-hangers and plot twists ever would resolve,
Doctor Who
returns to BBC America on August 27th. Although they were very tight-lipped about any plot points, co-stars
Matt Smith
(who plays the Doctor himself) and
Karen Gillan
(who plays the Doctor's companion, Amy) talked at the BBC America portion of the TCA Press Tour about how their lives have changed since becoming a part of the show, how they both enjoy taking unexpected risks with their characters, what they were most nervous about and what they have the most fun with when it comes to taking on such iconic roles, who their favorite actors are in
Doctor Who
seasons past, and they promised more twists and turns, as the dynamic changes after the big revelation in the last episode...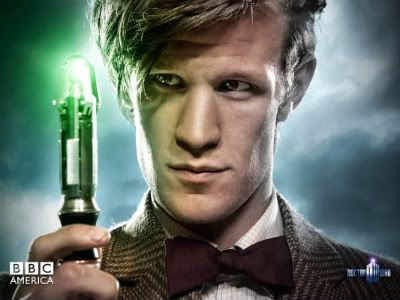 ...
Q: In the second half of this season, everything changes and all bets are off, with relationships and dynamics changing, now that viewers know who River is. Did you guys enjoy the second half of this season, and all the twists and turns that it brought?
GILLAN
: "
Absolutely! It's going to take some twists and turns, and all relationships and the whole dynamic is going to change, after the big revelation at the end of the last half of the series. I had some fun with Alex Kingston, with that.
"
SMITH
: "
There's the great revelation that's probably the biggest of the series. We've still got to understand just what happened to the Doctor in Episode 1. I think "Let's Kill Hitler" is maybe my favorite episode to date. It just rockets along. Steven [Moffatt] has always delivered the payoff to all these revelations, in a way that is exactly what you would want it to be. It doesn't disappoint...
"