Source:
Syfy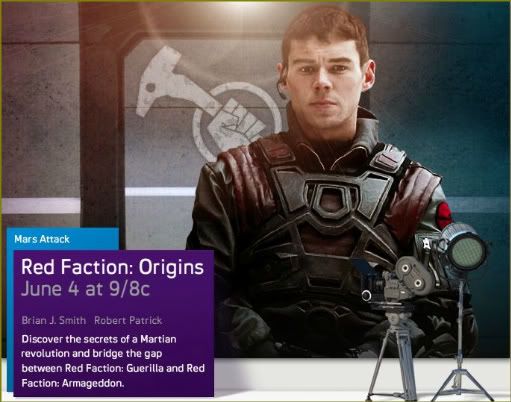 Red Faction: Origins - Syfy Video: Movie Trailer "A New Chapter" Premieres Saturday, June 4, 2011 at 9/8C
Robert Patrick
(
Terminator 2
),
Brian J. Smith
(
Stargate Universe
) and
Kate Vernon
(
Battlestar Galactica
) star in
Red Faction: Origins
, based on the hugely successful
Red Faction
video game franchise. Twenty-five years have passed since Alec Mason (Patrick) led the Martian Colonies to freedom and 12 years since vengeful enemies killed his wife, kidnapped his daughter Lyra (
Tamzin Merchant
), and left a broken hero in their wake. Jake Mason (Smith), Alec's only son and an officer in the Red Faction Militia, has his world turned inside out when he discovers that now, 12 years after her kidnapping, his sister is still alive. As a powerful new enemy swarms across the planet, Jake goes out to find her, only to learn that his lost sister is one of them -- a cold-blooded soldier sworn to destroy the Red Faction. Vernon portrays The Matriarch, leader of the tribal Marauders sect.
Cast includes Robert Patrick, Brian J. Smith, Tamzin Merchant, Kate Vernon, Devon Graye, Gareth David-Lloyd, Danielle Nicolet and Gordon Kennedy.