Source: Syfy
schedulebot
SYFY - Angry Mother Nature Movie Marathon Sunday, March 13, 2011
10:00 AM
Arctic Predator
[Also known as: Frost Giant]
A dedicated explorer and his team search for a 19th century shipwreck off the coast of Antarctica. After the team digs up an alien ice creature that has been buried in the ice for over 200 hundred years, the creature kills the explorers and heads to the mainland, where it begins sucking the heat energy from Earth.
Cast includes Dean Cain, Erbi Ago, Velizar Binev, Lucy Brown, Louisa Clein and Laia Gonzàlez.
12:00 PM
Ice Spiders
A ski resort is terrorized by giant spiders that are intent on finding their next victims after government scientists lose control of an engineering experiment.
Cast includes Patrick Muldoon, Vanessa Williams, Thomas Calabro, David Millbern, Noah Bastian, Carleigh King and Stephen J. Cannell.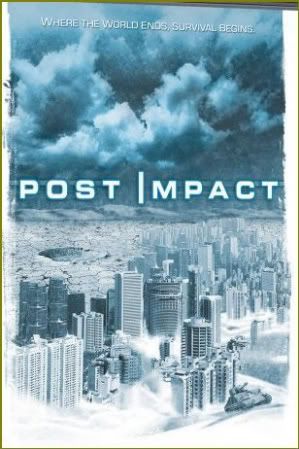 02:00 PM
Post Impact
After a meteor strike starts a new ice age on Earth, one man leads a group of survivors on a cross-country journey to find a device that could give humankind new hope for survival.
Cast includes Dean Cain, Bettina Zimmermann, Joanna Taylor, Nigel Bennett, John Keogh and Cheyenne Rushing.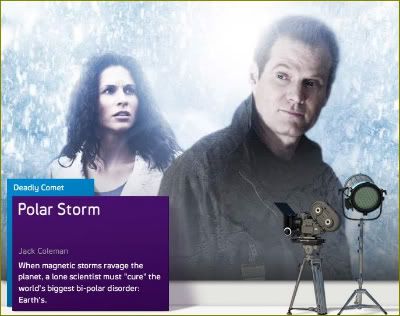 04:00 PM
Polar Storm
The world looks to a brilliant scientist for help when the Earth's magnetic poles are threatened by mysteriously violent storms.
Cast includes Jack Coleman, Holly Dignard, Tyler Johnston, Terry David Mulligan, Roger R. Cross, Jay Brazeau, Brent Stait and Kurt Max Runte.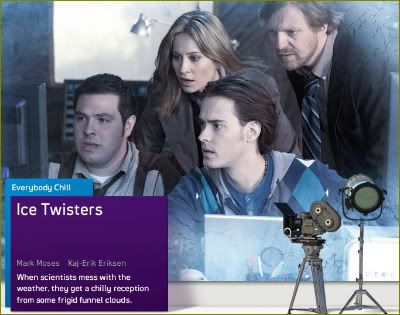 06:00 PM
Ice Twisters
Scientists seek the assistance of a science fiction novelist when a top-secret government program devoted to researching experimental weather manipulation techniques results in the creation of deadly tornadoes made of ice.
Cast includes Mark Moses, Camille Sullivan, Kaj-Erik Eriksen, Alex Zahara, Ryan Kennedy, Robert Moloney, Dion Johnstone and Ingrid Torrance.
08:00 PM
The Core
A team of scientists and military personnel are assembled to reactivate the Earth's molten core and save the planet from total destruction.
Cast includes Aaron Eckhart, Christopher Shyer, Ray Galletti, Hilary Swank, Delroy Lindo, Rekha Sharma, DJ Qualls, Stanley Tucci, Tchéky Karyo, Dion Johnstone, Alfre Woodard and Stargate Universe's Jennifer Spence.
11:00 PM
Earthstorm
A team of scientists depend on a demolitions expert to find a solution in securing the moon after a massive asteroid causes a fatal threat to all life on earth.
Cast includes Stephen Baldwin, Amy Price-Francis, John Ralston, Dirk Benedict, Matt Gordon and Anna Silk.
01:00 AM
The Black Hole
A routine laboratory experiment goes wrong and opens a black hole over St. Louis allowing an evil energy devouring force to use the phenomena as a passage to enter our world and wreak havoc as the military prepares a nuclear attack.
Cast includes Kristy Swanson, Judd Nelson, David Selby, Heather Dawn, Jennifer Lyn Quackenbush and Christa Campbell.
03:00 AM
Annihilation Earth
In a world powered by high-tech super colliders, the unexplained destruction of one of these cutting-edge facilities brings the globe to the brink of economic and ecological disaster, and it's up to a brilliant physicist to solve the mystery.
Cast includes Luke Goss. Marina Sirtis, Colin Salmon, Louise Cliffe and Theo Cross.