Source: Syfy
schedulebot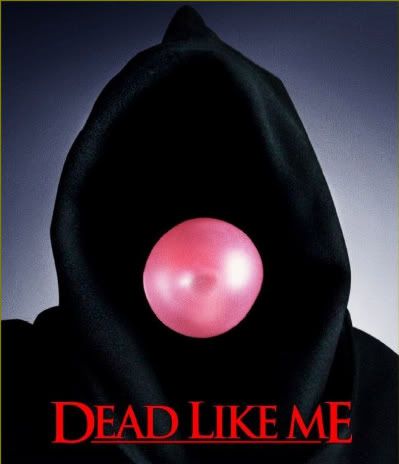 DEAD LIKE ME - SYFY (US): Season Two Marathon Wednesday, March 30, 2011
Cast includes Ellen Muth, Callum Blue, Jasmine Guy, Mandy Patinkin, Cynthia Stevenson, Britt McKillip, Christine Willes, Laura Harris, Crystal Dahl, Greg Kean and Patricia Idlette.
09:00 AM
Send In The Clown
At her regular job, Georgia has to train a new employee, the boss's nephew (Steven Grayhm), who's "dumb as a bag of hammers"---but really cute. Suddenly sober Mason feels like a real bozo as he dresses as a clown at a children's party, where he must reap the soul of the birthday girl's father (David Mackay).
Guest stars include Glynis Davies, Cainan Wiebe and Manoj Sood.
10:00 AM
The Ledger
It's a bad day in the afterlife for George as she discovers that her parents are selling the family home---and she's even more distressed when she finds out why. George also learns that her bike's been stolen and that her company's new security chief (Michael Kopsa) believes she may be pilfering office supplies.
Guest stars include Fred Ewanuick, Michael Kopsa, Michael Roberds, Dee Jay Jackson, Janie Woods-Morris and Enid-Raye Adams.
11:00 AM
Ghost Story
Delores goads George into attending the company's annual retreat in the woods; Mason loses his note with the name of his next soul to reap; Reggie tells prospective homebuyers that her late sister still keeps in touch with her.
Guest stars include Stargate SG-1's Teryl Rothery, Lochlyn Munro, Talia Ranger, Andrew Moxham and Kirsten Robek.
12:00 PM
The Shallow End
George comes to believe that the secret to being popular is to be mean to people, which she in turn passes on to the office computer geek. Also, Mason and Daisy contend with two difficult souls (Shelley Berman, Neil Maffin), who want to prolong their departure.
Guest stars include Eureka's Neil Grayston, Shelley Berman, Neil Maffin, Pascale Hutton and Jacqueline Ann Steuart.
01:00 PM
Hurry
At Happy Time, Delores recruits George's help in impressing an efficiency expert (Robert Clarke), while her netherworld co-workers are in a rush to reap the souls of a bike courier, a speed dater and a businessman heading off to vacation.
Guest stars include Richard Lawson, Sanctuary's Ryan Robbins, Kurt Evans, Venus Terzo and James Ashcroft.
02:00 PM
In Escrow
Newly promoted George is faced with her first big corporate decision at Happy Time; and Joy sells the family home and looks forward to her new life.
Guest stars include Stargate SG-1 alums Teryl Rothery, Peter Williams, Tom McBeath, MacGyver's Michael Des Barres, Eureka's Chris Gauthier, Kurt Max Runte and Battlestar Galactica's Nicki Clyne.
03:00 PM
Rites Of Passage
George hits the big time when she reaps the soul of a rock star.
Guest stars include Tom McBeath, Claudette Mink, Barbara Barrie, Claude Duhamel, and James Kirk.