Source: Syfy
schedulebot
[
NOTE: Syfy schedule subject to change(s)
]

WEREWOLF MOVIE MARATHON - SYFY: SCHEDULE MONDAY, AUGUST 26, 2013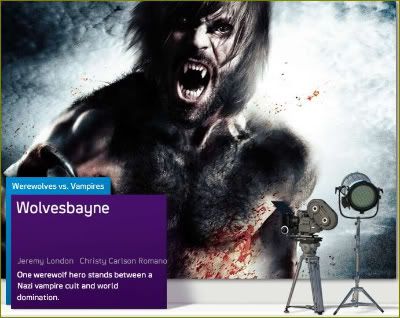 08:30 AM
Wolvesbayne
A werewolf hero (
Jeremy London
) takes on a vampire cult.
Cast includes Mark Dacascos, Yancy Butler, Rhett Giles, Christy Carlson Romano, Jeremy London, Stephanie Honore and Sarah Ann Schultz.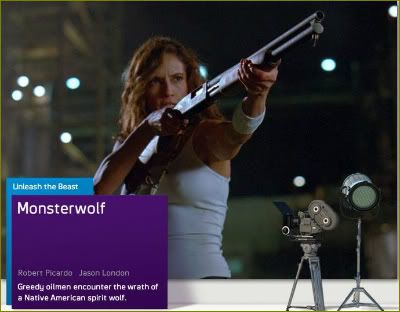 10:30 AM
Monsterwolf
A monstrous, seemingly unstoppable wolf wages an assault on an unscrupulous oil company's staff.
Cast includes Leonor Varela,
Stargate Atlantis'
Robert Picardo, Marc Macaulay, Steve Reevis, Jason London, Jon Eyez and Griff Furst.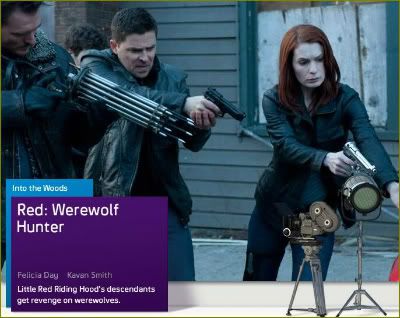 12:30 PM
Red: Werewolf Hunter
Red (
Felicia Day
), a descendant of "
Little Red Riding Hood
," brings her fiancé home to meet the family, where he learns that they hunt werewolves. When a werewolf bites her betrothed, it's up to Red to save his life.
Cast includes Felicia Day, Stephen McHattie, Greg Bryk, Rosemary Dunsmore, David Reale and
Rogue's
Kavan Smith.
02:30 PM
Underworld: Evolution
Gory sequel finds the bloodsucking heroine (
Kate Beckinsale
) tracing the origins of the ancient feud between the tribes of vampires and werewolves.
Cast includes Kate Beckinsale,
Defiance's
Tony Curran, Derek Jacobi, Bill Nighy, Michael Sheen and Sophia Myles.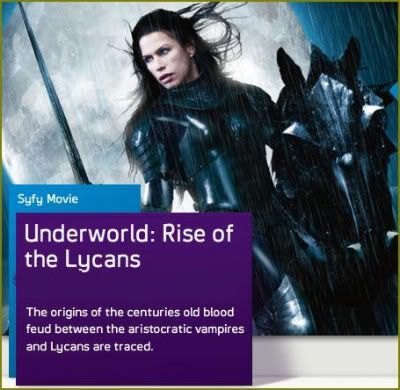 04:30 PM
Underworld: Rise Of The Lycans
A prequel to the first two Underworld films, this fantasy explains the origins of the feud between the Vampires and the Lycans. Aided by his secret love, Sonja (
Rhona Mitra
), courageous Lucian (
Michael Sheen
) leads the Lycans in battle against brutal Vampire king Viktor (
Bill Nighy
). Determined to break the king's enslavement of his people, Lucian faces off against the Death Dealer army in a bid for Lycan independence.
Cast includes Michael Sheen, Bill Nighy, Rhona Mitra, Steven Mackintosh, Kevin Grevioux, David Aston, Geraldine Brophy and Leighton Cardno.
06:30 PM
G. I. Joe: The Rise Of Cobra
An elite military unit battles the corrupt arms dealer Destro (
Christopher Eccleston
) in order to prevent the nefarious Cobra organization from destroying the world
Cast includes Adewale Akinnuoye-Agbaje,
Doctor Who's
Christopher Eccleston, Grégory Fitoussi, Joseph Gordon-Levitt, Leo Howard, Karolina Kurkova, Byung-hun Lee, Sienna Miller, David Murray,
Continuum's
Rachel Nichols, Kevin J. O'Connor, Gerald Okamura, Ray Park, Jonathan Pryce, Dennis Quaid, Saïd Taghmaoui, Channing Tatum and Arnold Vosloo.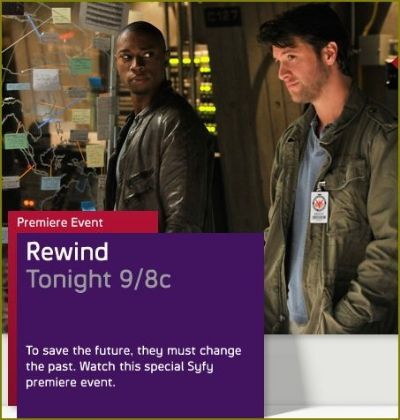 09:00 PM
Rewind
[
NOTE: This was the pilot for a Syfy 2012 proposed scripted series that appears to have not passed their rigid guidelines for becoming a full fledged series. Click HERE for a Syfy Press Release, and HERE for an article at Blastr.
]
A team of military operatives and civilian scientists travel through time using untested technology in order to alter events and hopefully prevent a devastating terrorist attack.
Cast includes Jeff Fahey,
Hell on Wheels'
Jennifer Ferrin, David Cronenberg, Keisha Castle-Hughes, Melanie Scrofano, Skyler Wexler, Chris Ratz, Shane McRae, Matthew Bennett, Paulino Nunes, Robert B. Kennedy and Keon Mohajeri.