Source:
Syfy
You Tube channel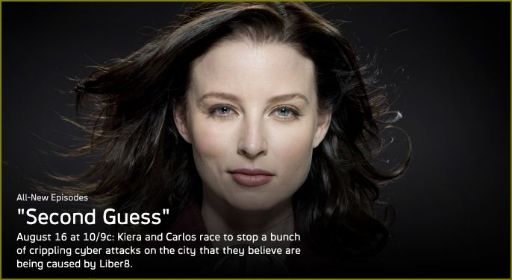 CONTINUUM - SYFY VIDEO: 'SECOND GUESS' SNEAK PEEK - AIRS FRIDAY, AUGUST 16, 2013 AT 10/9C
Kiera and Carlos race to stop a bunch of crippling cyber attacks on the city that they believe are being caused by Liber8.
A series of cyber attacks creates chaos in Vancouver, and Kiera and Carlos (
Rachel Nichols
,
Victor Webster
) try to find the perpetrator, but clues indicate Alec's (
Erik Knudsen
) technology may have something to do with it.
Guest stars include
Stargate SG-1's
Tony Amendola,
Caprica's
Magda Apanowicz, Kate Bateman, John Cassini, Richard Harmon, Adrian Holmes, Jill Teed, Hugh Dillon, Sarah Edmondson and
Battlestar Galactica's
Tahmoh Penikett.