Source: Syfy
schedulebot
[
NOTE: Syfy schedule subject to change(s)
]

ADVENTURE MOVIE MINITHON - SYFY: SCHEDULE FRIDAY, AUGUST 16, 2013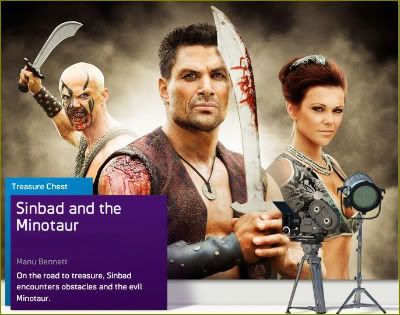 01:00 PM
Sinbad And The Minotaur
Sinbad (
Manu Bennett
) must steal a relic from a sorcerer before leading his crew in search of treasure on an island inhabited by a minotaur.
Cast includes Manu Bennett, Lily Brown, Holly Brisley, Steven Grives, Dimitri Baveas and Jared Robinson.
03:00 PM
Moby Dick
Author
Herman Melville's
classic tale gets a modern-day makeover as the captain of a submarine hunts the massive whale that once disfigured him in a terrifying confrontation at sea.
Cast includes Barry Bostwick, Renée O'Connor, Matt Lagan, Adam Grimes, Dean Kreyling, Jay Gillespie, Jay Beyers and Carl Watts.
05:00 PM
Pirates Of The Caribbean: Dead Man's Chest
Overstuffed sequel in which crafty pirate Jack Sparrow (
Johnny Depp
) schemes to get out of a debt that would have him hand over his soul to the ghostly Davy Jones.
Cast includes Johnny Depp, Orlando Bloom, Keira Knightley, Jack Davenport, Bill Nighy, Jonathan Pryce,
Once Upon A Time's
Lee Arenberg and Stellan Skarsgård.