Source:
Syfy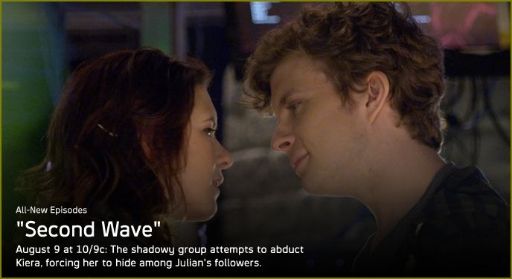 CONTINUUM - SYFY VIDEO: 'SECOND WAVE' SNEAK PEEK - AIRS FRIDAY, AUGUST 9, 2013 AT 10/9C
Watch a sneak peek of the next all-new episode of Continuum, Friday 10/9c.
Kiera (
Rachel Nichols
) is captured by Julian's (
Richard Harmon
) followers in the wake of a sneak attack executed by the shadowy group posing as
Section Six
; at the same time, Alec (
Erik Knudsen
) tries to track down Travis (
Roger R. Cross
) by reactivating his military chip, but shortly thereafter the hunter becomes the hunted.
Guest stars include
Caprica's
Magda Apanowicz, John Cassini, Zak Santiago, Adrian Holmes, Darcy Laurie, Tanaya Beatty, Terry Chen and Hugh Dillon.