Source: Syfy
schedulebot
[
NOTE: Syfy schedule subject to change(s)
]

SCIFI MOVIE MARATHON - SYFY: SCHEDULE THURSDAY, AUGUST 8, 2013
09:00 AM
High Plains Invaders
The hanging of train robber Sam Phoenix (
James Marsters
) is abruptly halted by an invasion of uranium-based aliens, forcing Sam and a ragtag group of survivors to find sanctuary in a church. As the Old West becomes infested with the killer insectoids, Sam and company must find a way to fight back.
Cast includes James Marsters, Cindy Sampson, Sebastian Knapp and Sanny Van Heteren.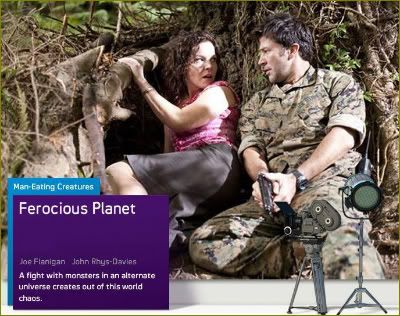 11:00 AM
Ferocious Planet
An experimental device malfunctions, transporting a group of observers to another dimension. The group must repair the machine in order to return home while fending off bloodthirsty creatures.
Cast includes
Stargate Atlantis'
Joe Flanigan, John Rhys-Davies, Catherine Walker, Dagmar Döring, Robert Soohan, Yare Michael Jegbefume, Chris Newman and Shashi Rami.
01:00 PM
American Warships
When a fleet of mysterious ships wage war against the Earth, only the crew of the
USS Iowa
, the last American battleship, can prevent global armageddon.
Cast includes Mario Van Peebles, Carl Weathers, Johanna Watts, Nikki McCauley, Mandela Van Peebles, Devin McGee, Chris Hayes, April Ezell Wilson, Elijah Chester, James Furey, Sean Patrick Smith, Gray Hawks, Rebecca Goudarzi, Brandon Clark and David Polinsky.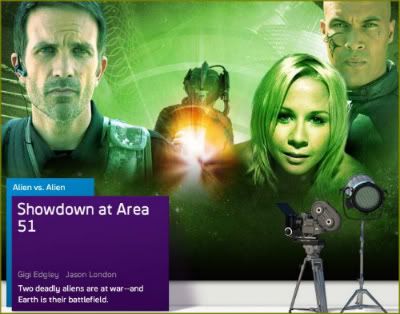 03:00 PM
Showdown At Area 51
Two alien races have crashed on the Earth and are searching for an artifact with the power to destroy the planet.
Cast includes Lee Horsley, Jason London,
Farscape's
Gigi Edgley, Christa Campbell, Coby Bell and Jahidi White.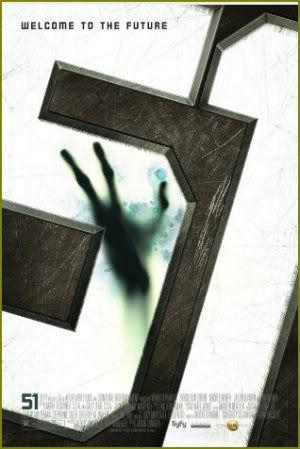 05:00 PM
Area 51
Chronicles what happens after political pressure from the American public forces the Air Force to provide a few well-known reporters with limited access to the most secretive base on the planet:
Area 51
. When one of the base's hidden 'long term visitors' exploits this unprecedented visit as a chance to liberate himself and his fellow alien captives,
Area 51
turns from a secure government base to a horrifying destination of terror.
Cast includes Jason London, Rachel Miner, Vanessa Branch, John Shea, Jillian Batherson and
Babylon 5's
Bruce Boxleitner.
07:00 PM
Independence Day-saster
When the Earth is attacked by alien machines on the 4th of July, a small town firefighter and a rogue
SETI
scientist team up to activate the only technology capable of defeating the invaders.
Cast includes Ryan Merriman, Tom Everett Scott, Keenan Tracey, Iain Belcher, Michael Kopsa, Jill Teed, Emily Holmes, Andrea Brooks, Garwin Sanford, Lane Edwards, Aaron Craven, Revard Dufresne, Sean Tyson, Nicholas Carella, Grace Sherman and Casey Dubois.
09:00 PM
Invasion Roswell
- * Syfy Premiere! *
"
Invasion Roswell
" marks the anniversary of the famous July 1947 incident when some claim the U.S. Government covered-up the crash-landing of an alien spacecraft in Roswell, New Mexico.
In the movie, after the American Army shot down the
UFO
, they secretly trained elite commandos to deal with the aliens' feared return. However, the extra-terrestrials never came back and the elite force was disbanded. Sixty-six years later, the aliens are invading Earth and only the over-the-hill retired commandos can stop them.
Cast includes Greg Evigan and
Star Trek: The Next Generation's
Denise Crosby.
11:00 PM
Species: The Awakening
Helena Mattsson
and
Ben Cross
star as a woman and her uncle in this sequel about a college professor who uncovers her alien roots in the wake of a killing spree. Directed by
Nick Lyon
.
Cast include Edy Arellano, Helena Mattsson, Marco Bacuzzi, Ben Cross, Roger Cudney, Marlene Favela, Meagen Fay, Cynthia Francesconi,
Star Trek: Enterprise's
Dominic Keating, Greg Lucas and Mauricio Martinez.
01:00 AM
Invasion Roswell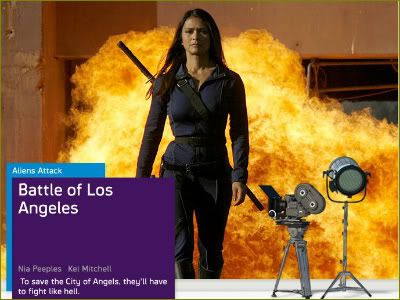 03:00 AM
Battle Of Los Angeles
Alien spacecraft attack Los Angeles in the first wave of an invasion, and humanity's survival depends upon two soldiers who must breach the mother ship and destroy it from within.
Cast includes Nia Peeples, Kel Mitchell, Dylan Vox, Theresa June Tao, Gerald Webb, Edward DeRuiter, Darin Cooper, Robert Pike Daniel and Tim Abell.