Source:
Yahoo! TV
[follow link for complete column]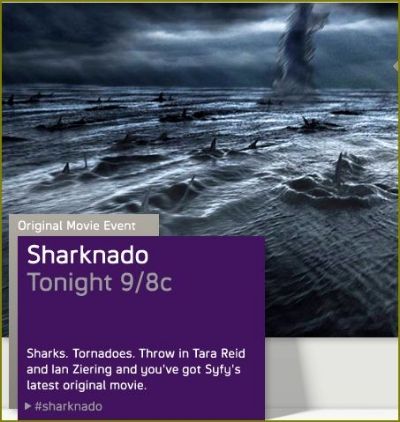 Yahoo! TV: Thursday's Picks: What to Watch Thursday, July 11, 2013
A list of can't-miss hot shows, undiscovered gems and fan favorites
...
Sharknado
THURSDAY 9 PM on Syfy
Look out behind you! In the fine tradition of "
Dinocroc vs. Supergator
,"
Syfy
trots out another ridiculously cheesy monster movie tonight, and this one features flying sharks hurled into the air by a raging storm. (And this poor girl forgot her umbrella.) "
90210
" alum
Ian Ziering
and tabloid staple
Tara Reid
star as ex-spouses fighting to stay alive as sharks swim through the streets.
CLICK HERE TO VIEW THE MOVIE TRAILER