Source:
TV Guide
[follow link for complete column]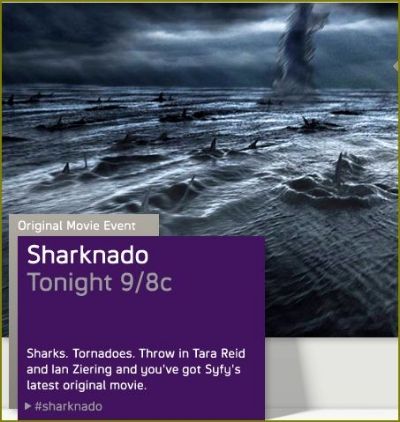 TV GUIDE: The Thursday Playlist: Netflix Turns Orange, Sharknado, Hollywood Game Night
Jul 11, 2013
by
Matt Roush
...
THE SILLY SEASON
: Back to the world of real TV, where things are decidedly unreal. Especially on
Syfy
, which has transplanted its kitschy creature features for now from Saturdays to Thursday. Getting a jump on next month's
Shark Week
on
Discovery
,
Syfy
devotes much of the day and night to shark-tastic cheesefests, including replays of the infamous
Sharktopus
(1 pm/12c) and the lesser known
Swamp Shark
(3 pm/2c), all leading to a new contender for the Camp Hall of Fame:
Sharknado
(9/8c), which assembles a
Love Boat
-worthy collection of pop-culture flotsam (
Ian Ziering
,
Tara Reid
,
John Heard
) to contend with an unnatural disaster in which a mammoth storm "sucks sharks from the ocean and hurls them onto land" (Syfy's words, on which no one can improve). Is this really any sillier than an entire town trapped under a mysterious invisible dome? OK, I suppose it is.
CLICK HERE TO VIEW THE MOVIE TRAILER