Source:
MSN TV
[follow link for complete column]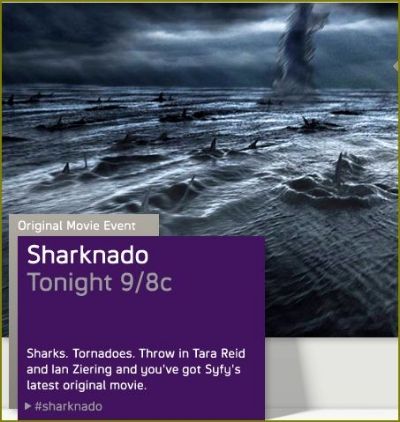 MSN TV: TONIGHT'S PICKS THURSDAY, JULY 11, 2013
...
Sharknado
9:00 PM, SYFY
Seriously,
Syfy
? We know, we know: Cheesy horror flicks are your thing, but come on. Some plotlines are just too far-fetched even for this genre. Case in point: This new attempt at a scary tale about a massive storm that floods the streets of Los Angeles and fills them with sharks. You can do a very effective horror story by keeping the sharks in the ocean -- perhaps you've heard of a little movie called "
Jaws
"? And given recent real-life events, tornadoes might not be what some folks want to watch right now...
CLICK HERE TO VIEW THE MOVIE TRAILER