Source:
TV Guide
[follow link for complete column]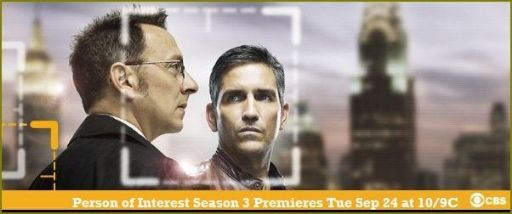 TV GUIDE: Ask Matt: Emmys, Hate-Watching, the Happy Endings Divide, Ziva's Exit
Jul 22, 2013
by
Matt Roush
Send questions and comments to
askmatt@tvguidemagazine.com
and follow on
Twitter
!
...
Question
: I've been a huge fan of
Person of Interest
since it premiered, but in the back half of Season 2 it seemed to lose some of its focus. For S3 they've added
Sarah Shahi
as a regular, even though a lot of fans weren't happy with Samantha Shaw's introduction to the show.
Kevin Chapman
didn't appear in the last two episodes of S2, and now we're hearing that
Shahi
will be on the
POI
Comic-Con
panel, but
Taraji P. Henson
won't be. Is this an indication of things to come? Are the beloved Core Four being broken up for good? —
Lyra
Matt Roush
: I wouldn't say
Person of Interest
has lost its focus as much as it's refocusing and growing its world of characters to stay viable and not grow stale and predictable. Besides, no one will ever be able to convince me that adding the dynamic
Sarah Shahi
to a show is anything but a plus, and Shaw is one of her best roles yet. (Same goes for
Amy Acker
as Root, who was announced at
Comic-Con
as a new series regular as well.)
Henson
reportedly had a scheduling conflict with the
Comic-Con
panel, but
Chapman
appeared, so while the cops won't be the only characters interacting regularly with Reese and Finch, they're not going away. My advice: Let the show evolve, and hang on for the ride. Let's just hope it survives the move to Tuesdays at 10/9c, traditionally one of CBS' most problematic time periods...
Person of Interest
season three premieres on NEW night, Tuesday, September 24, at a NEW time, 10/9C, on
CBS
.
CLICK HERE TO VIEW THE ENTIRE PERSON OF INTEREST COMIC-CON 2013 PANEL